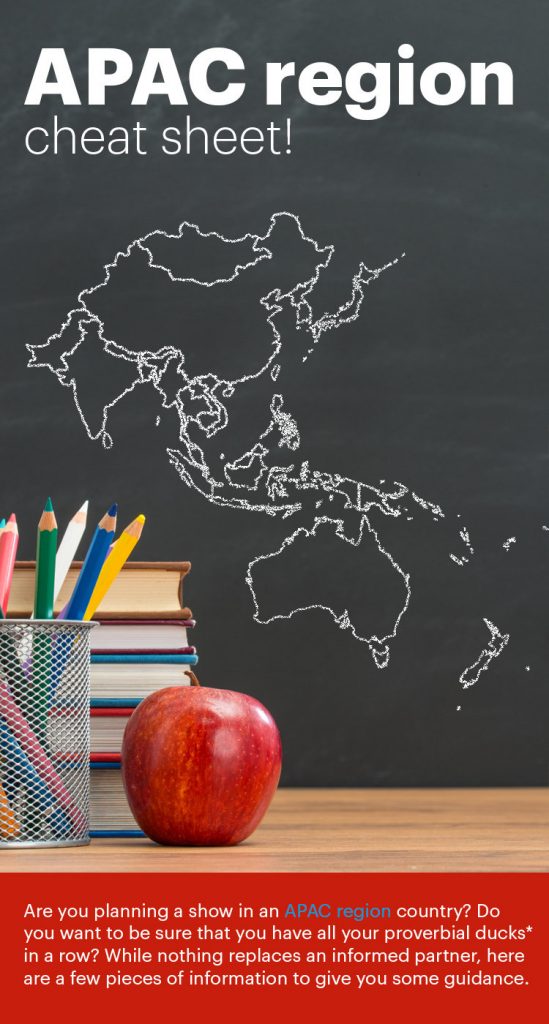 In Japan, catering is modest, usually limited to coffee, tea, and light snacks.
In China, there are dozens upon dozens of ghost cities, new cities that have been built during the last few decades but are pretty much deserted.
In Korea, Taiwan, and other countries in Asia, carpet is sometimes installed after the exhibit is set up.
China censors social media. Get a good VPN.
In Korea and Japan, it's offensive to wear strong scents.
When you're exhibiting in the APAC region, buy–don't rent–your exhibit furniture.
Hong Kong may be the world's capital of face masks and hand sanitizers.
Almost all the properties used at shows in Hong Kong are built and shipped in from mainland China.
Chinese people walk their ducks* on leashes. Here's what happens when the leash comes off.
If you want to use US or European-style materials in Australia, allow enough time for the shipment to arrive. We recommend two months.
The second most hated food in China is coriander (right after bitter melon).
Hong Kong workers need a 'blue card' to work in Macau.
Slot machines are everywhere in Australia. Everywhere.
Rigging is rare and extremely expensive in Japan. For high identity in Japan, consider using balloons (aka inflatables).
The Japanese are known for removing their shoes when they enter a house, but Australians really HATE shoes.
Singapore is very Western and very affluent. English is usually spoken.
Tattoos are not acceptable in Japan and Korea.
In Korea, roll-on flame retardant is applied on site.
In Singapore, you will be charged per outlet or lighting connection.
Durian is a fruit unique to Malaysia, and to say it's an acquired taste is an understatement.
In Hong Kong restaurants, the bowl of hot tea on the table is for rinsing your dishes.
If you're planning catering in Australia, opt for coffee—Vittoria coffee is the best brand.
Rather than police dogs, China uses police geese.
Japan's ratio of robots to people is one of the highest in the world. As the population ages and the birth rate falls, robots are performing many basic human services.
Taiwan, a tiny island that many organizers prefer over China, commonly has a 4.0 m height restriction.
Korea is now the break-dancing capital of the world.
In Japan, weekends are billed at straight time.
Beijing claims the world's largest outdoor escalator—shaped like a dragon.
Because of the diversity of its population, a sentence in Malaysia could have words from four different languages.
China takes its exhibiting clue from Western neighbors and uses upgraded carpet and raised floors, unlike Japan, where attendees often trip over both.
Koreans have a fear of dying by an electric fan.
The Malaysian state of Penang is the street food capital of Asia.
If you are not from Australia but want to work on the exhibit set-up, you must go through an 'induction process,' which is a short safety course.
If you have a show in the winter, China's Harbin International Ice and Snow Sculpture Festival or the Sapporo Snow Festival are must-sees.
If you want your coffee with a kick in Australia, ask for a 'flat white.' You might also ask for a "long black" or a "cap."
Hourly rates are rarely an option in the APAC region. Usually, you will be charged half day or full day minimums.
In China, exhibits are usually done at a flat project rate that includes engineering, fabrication, and set up and dismantle. It's not unusual for workers to be on the floor into the night.
Early move-in exists in China. Just ask and be prepared to pay for it.
While your exhibit is going up in China, stop for a cup of tea at Teabucks.
Valentine's Day in Korea and Japan is all about men. March 14 is White Day aka Valentine's Day for women, while April 14 is Black Day, a celebration for single people.
Want to know more? That's why we're here. We've been on the ground helping exhibitors with their shows in the Asia Pacific for more than 15 years. When your show schedule takes you to the APAC region, you will find, as many others have, that Idea International is the partner that will give you peace of mind—half a world away. Contact us now!