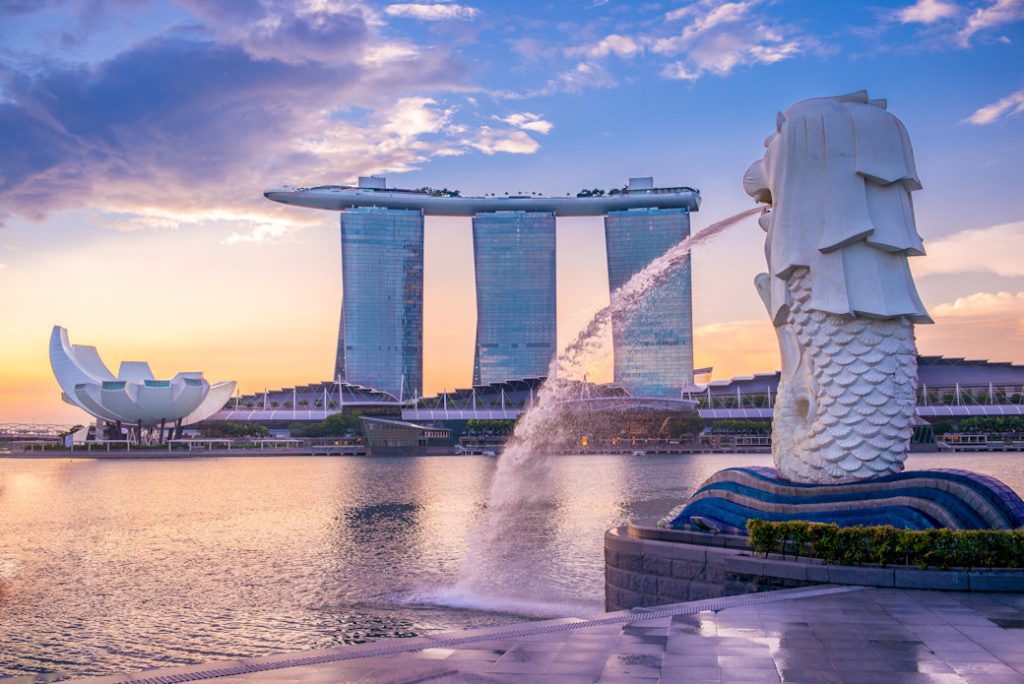 The exhibition industry is a significant contributor to the Singapore economy, reaping lucrative profits annually. The prospects are bright for this thriving industry. Strategically located at the crossroads of multiple air and sea routes, Singapore provides convenience for both people and goods. The country's positioning as a logistical hub also means the efficient distribution of exhibits and materials, within and outside the country. Singapore is also a regional commercial center, with over 130 banks and more than 50 operational headquarters, as well as numerous headquarters and purchasing offices. All these factors contribute to presenting exhibitors with a large potential pool of buyers and fast transaction processing. Often Singapore is a springboard to reach the rest of the Southeast Asian markets. Overseas exhibition organizers currently capture more than 60% of the Singapore exhibition industry.
One critical element in Singapore's pre-eminence in the exhibition area is its stability. Singapore is ranked as the most stable country in Asia, politically and socially. Along with its proven track record of successful exhibitions, an advanced telecommunications network, a wide selection of convention and exhibition venues, and aggressive support from the public sector, Singapore looks set to fulfill its role as an international exhibition city. Plus, its robust economic growth has seen Singapore's business travel and meetings, incentive travel, conventions, and exhibitions (MICE) industry continuing to thrive.
Singapore continues to establish thought-leadership through new compelling content in first-in-Asia events hosting major world congresses and meetings.
The Singapore Exhibition & Convention Bureau (SECB) SECB is a group of the Singapore Tourism Board (STB) that champions the business events industry in Singapore. As the lead government agency for this industry, SECB's goal is to position Singapore as a dynamic business events destination where an ecosystem of ideas, people, and technology draws on vibrant knowledge and an​ extensive network.
SECB values industry partnerships and collaborates with organizers, associations, and MICE industry stakeholders to identify critical opportunities to grow, attract, and create business events. SECB also assists business event organizers, corporations, and associations by providing comprehensive information on Singapore's MICE facilities, incentive venues, and industry partners.
To stay relevant and competitive in a rapidly changing global operating environment while meeting rising expectations, SECB focuses on quality tourism by understanding consumer needs and strengthening industry capabilities to reinforce Singapore's value proposition as an award-winning MICE destination in the region. Constant innovation is necessary to provide personalized and enriching experiences that meet the evolving needs of our visitors.
Singapore's extensive global trade and communications networks provide market access and commercial flow to the Asia Pacific and the world. Singapore is also the home base of thought-leadership and innovation with unique strengths in knowledge-based and knowledge-driven industries such as banking and finance, biomedical sciences, energy, ICT and media, energy and environment, as well as transport and security. Singapore has successfully grown its R&D base, drawing top scientific and creative talent and nurturing collaborations between the public sector and private enterprise.
The presence of more than 7,000 multinational companies in Singapore, together with a government supportive of business, further contributes to a dynamic business environment. Singapore's economic growth has been built on several key industries, and SECB brings together a complementary program facilitating business growth within these industry clusters of urban solutions, design, media and digital content, travel, healthcare, biomedical, education, and sports.
Successful flagship events in Singapore such as The International Furniture Fair Singapore, CommunicAsia & Broadcast Asia, Singapore Airshow, Food and Hotel Asia, ITB Asia and World Cities Summit continue to serve as a strong base for complementary events that are co-located in clusters to drive better synergy. In this way, attendees can optimize their business trips, maximize opportunities, and expand their networks — certainly a boon for today's time-strapped business travelers.
Singapore offers an excellent range of state-of-the-art convention centers, exhibition halls, and meeting venues that suit a variety of needs and budgets. These venues not only offer first-rate conference and meeting facilities, but also the convenience of a wide range of accommodation, food, shopping, entertainment, and other lifestyle options nearby.
​​​​​​Singapore is home to more than 150 International Non-Profit Organizations (INPOs) including the World Wildlife Fund (WWF), The World Bank Group, International Federation of Interior Architects/Designers (IFI), and International Air Transport Association (IATA). The SECB also collaborates closely with passionate industry stewards and key opinion leaders through the Conference Ambassador Programme (CAP) to champion our business events industry and bid for events.
Singapore has maintained leading positions in global rankings for association conventions and meetings and is Asia Pacific's top convention city according to the International Congress and Convention Association (ICCA) as well as the Union of International Associations (UIA). Finally, Singapore is incredibly accessible. It is linked with more than 100 international airlines flying to some 300 cities in about 70 countries and territories worldwide.
When it comes to venues, Singapore is home to large meeting spaces, such as Sands Expo and Convention Centre, Changi Exhibition Centre, Resorts World Sentosa Convention Centre, Suntec Singapore Convention & Exhibition Centre and Raffles City Convention Centre, as well as the grand urban horticultural display of Gardens by the Bay. Aside from heritage and cultural tours, Singapore's arts and cultural venues open their doors to groups. National Gallery Singapore recently debuted and offers private group tours. The National Museum of Singapore, the nation's oldest museum, which was refurbished in 2015 for Singapore's 50th anniversary, offers space for groups in its Glass Atrium and Gallery Theatre. Red Dot Design Museum, a collection of more than 1,000 exhibits in the field of product design and communication design from over 50 countries, also welcomes groups. Art Science Museum, shaped like an open lotus flower and located in the Marina Bay area, offers more than 32,000 square feet of indoor and outdoor space.
For groups looking for more "hyper-local" experiences for their itineraries, there are experiential tours, such as business trips to Singapore's water treatment plant or Singapore's heartlands—areas outside shopping haven Orchard Road or the Central Business District—that give visitors a glimpse into local living. Tourism companies offer groups the "Footsteps of Raffles" tour. The 3.5-hour journey begins where Singapore founder Sir Stamford Raffles is believed to have first stepped ashore in 1819, and stops for high tea at the Raffles Hotel, and ends with a boat ride down the Singapore River. The "Historical Singapore Bike Tour" is popular with groups with stops at Chinatown, Kampong Glam, the Museum District, City Hall, Marina Bay, and historic Raffles Place, among other locales.
What is the exhibiting environment in Singapore?
Singapore is one of the most "Western" of Asian cities Singapore has three official languages—Malay, Mandarin, and Tamil. However, because of the historical British influence, English is the language of business and is widely spoken.
The main convention centers—Suntec Singapore, Marina Bay Sands, and Singapore Expo are in different parts of the city. Check the location of the show before booking hotel rooms.
If exhibition demographics point to a definite trend in Japanese or Chinese attendees, signage and literature can be printed in two languages.
Many exhibit properties are built in Malaysia because fabrication in Singapore is costly.
Exhibit designs must submit plans to the venue for approval. The venue will also inspect exhibits for compliance to the rules and regulations, material usage, and structural safety.
Singapore has labor unions, but they don't interfere with I&D. Exhibitors can set up their exhibits or bring in their labor. Local builders usually provide their own labor. However, those performing short-term activities without a work pass must still notify the Ministry of Manpower (M>O>M>) about their activities.
If you need to find I&D labor in Singapore, contact your US-based exhibit house or a local exhibit builder.
Electrical power is ordered from show management. Exhibitors can plug in their own equipment at the show. Voltage is 220/240 volts
Drayage or 'site handling' in Singapore, if charged by the organizer or official contractor, is charged on a per cubic meter basis.
The Value Added Tax or VAT in Singapore is a 7% Goods and Service Tax applicable to all items brought into the country. There are few exemptions and/or refunds.
Workdays are from 9 am to 6 pm. Rates depend on the type of service: general labor, AV, IT, plumbing or electrical.
Exhibitors order trash services through the general contractor. Disposal fees generated from I&D are the responsibility of the exhibit builder. If trash is not disposed of properly, the builder can be fined. Booth cleaning is ordered through show management.
There is no smoking in exhibit halls. Designated smoking areas outside the halls will be clearly marked.
If you plan to play music or have live musical performances in your exhibit, you must get prior approval from show management. On the other hand, there is no regulation on copyright for music.
Hospitality is not expected but it is welcome, particularly if you plan on holding meetings in your exhibit. At the larger convention centers, you must order food through in-house catering services only. Tea, coffee, water, and sodas are commonly served. Depending on the industry, alcohol is served, but once again, approval to serve alcohol must be obtained through show management.
Greet attendees with hello and a handshake. Handshakes are light to the touch, not firm as in the U.S.
Present business cards when meeting someone new. Take the business card with two hands, and do not write on it. Bring a lot of business cards because you are expected to exchange them with almost everyone you meet on the show floor.
People in Singapore have confusing names. Ask what they prefer to be called. For instance, Chinese people use surname first and given name second, while Malay people do not use surnames—only the initial from their father's name before their own.
Make small talk with people in Singapore. Avoid religion, politics, and sex.
Dress is not quite as formal as in other Asian cities. Men wear dark pants, dress shirts, and ties while women wear skirts and blouses. At medical and financial shows, business suits are more common, and executives tend to wear business suits.
Tattoos and body piercings are considered unacceptable in a business environment.
Singapore is a very clean country and frowns on littering or eating food on public transportation.
If you want to hire educated, temporary labor to be brand ambassadors, hosts, or receptionists, there is considerable availability. Talk to your exhibit partner.