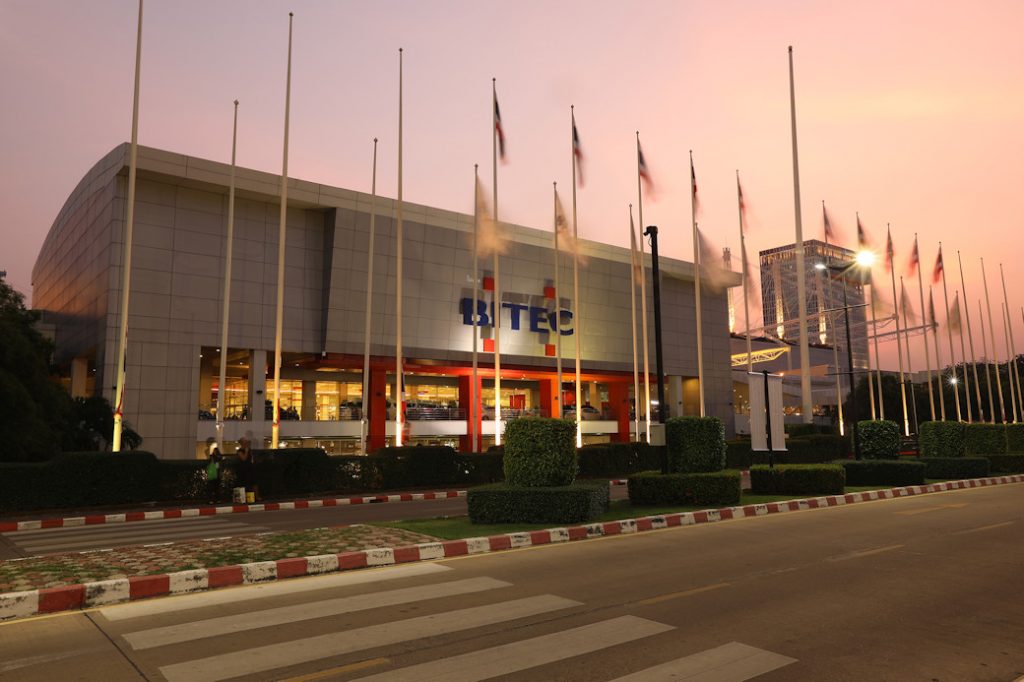 With the recent launch of seventeen new shows, Thailand's trade show industry is a force in driving the country's economy and industry. Thailand is a globally-recognized business events paradise, with its abundance of diverse, cutting-edge exhibition venues, stunning hotels, and upgraded telecommunication infrastructure to facilitate meetings. Thailand is in Southeast Asia. The country covers an area of 513,000 square kilometers and, when looking on a map, resembles the shape of an ax. To the north, it borders Myanmar and Laos and to the east Laos and Cambodia. To the south is the Gulf of Thailand and Malaysia and on the west is the Andaman Sea and Myanmar.
Thailand's collaboration with other countries has expanded trade and produced a growing network of free trade agreements, making Thailand both a critical regional and global destination for various industries. The country's advanced connectivity as a regional logistics and transportation hub gives exhibitions in Thailand extra benefits, boosted by a seamless transportation system.
REDEFINE: a Significant Achievement:
The Thailand Convention and Exhibition Bureau (TCEB) has introduced a key initiative, the REDEFINE campaign. This 360-degree exhibition success initiative offers global event organizers and businesses a variety of options for creating a more significant impact from their events.
The REDEFINE campaign connects international participants with regional industries and makes participation in Thailand's trade show scene as rewarding as possible.  One facet of this program is the Bidding Fund Programme, which provides marketing support for collaboration between local and overseas organizers in bringing new shows to Thailand. This gives marketing activity support to companies registered in Thailand as part of their attempts to bring new or cloned exhibitions to Thailand. Organizers outside of Thailand can apply for a site inspection program while TCEB, as co-creator, will arrange meetings with government agencies and trade associations in Thailand to familiarize international organizers with the various industries with which they wish to connect.
Moreover, TCEB will facilitate joint venture exhibition projects by arranging partnerships with regional visitors, and the exhibition marketing campaign gives new businesses a platform in Thailand's national pavilions at international trade shows.
Thailand Beats its Target Goals
As a result of all this activity, TCEB reports that Thailand beat its ambitious targets in the events sector with earnings surpassing the THB200 billion benchmark. Thailand's conventions segment surged by 61.23% in terms of visitors attending 108 TCEB supported events. Also, the bureau supported 37 international exhibitions that included  28 upgraded shows and nine new shows.
TCEB reported earnings reached THB219 billion on 34,261,307 domestic and international event business visitors during the fiscal year ending September 2018. That year saw Thailand welcoming 1,255,985 global MICE visitors, an increase of 19.85%, and generating revenue of THB95.6 billion, up 8.10%.  Revenue surged by 28.9% thanks to Thailand's strong economy, which was driven by high growth in exports and tourism.
According to TCEB's data, Asian business travelers dominated the market, representing 85.77% of all MICE visitors to Thailand with the following numbers:
China—214, 877 visitors
India—152, 638 visitors
Malaysia—145, 387 visitors
Traveling in Thailand
Air
Thailand's air transport has snowballed. The first Thai airport was Don Mueang International Airport, which started providing service in 1914 and was closed in 2006 when Suvarnabhumi International Airport opened. However, Don Mueang Airport reopened again in 2007 for domestic flights. Today international airlines from countries all over the world operate from Don Mueang and Suvarnabhumi, making these some of the most important airports in South East Asia.          
There are also international airports in the popular tourist provinces of Chiang Mai, Chiang Rai, Phuket, Hat Yai, Udon Thani, and Krabi. This network of airports bolsters Thai tourism and business travel, encouraging visitors who don't want to spend too much of their time traveling by bus, van, or boat to spend more time in the country.
Baht (Baht) is the currency of Thailand, and it is among the best-performing currencies in the world.
Land
Public transport: either long-distance or short-distance trips in Bangkok or other provinces, visitors can travel by bus, train, sky train, subway, van, and by Song Taew (small pick-up truck with two rows of benches).
Taxi: Bangkok and big provinces have metered taxis.
Tuk Tuk: a three-wheeled motorcycle that has become a symbol of Thailand and can be found around Bangkok and in some provinces.
Motorcycle Taxi: motorcycle taxis can be found near street intersections or small allies for quick transport and short distances.
Rental car and motorcycle: visitors who want to have independent travel or do not want to waste their time waiting for public transport can rent a car or a motorcycle from local companies as well as international chains.  Some companies also provide a driver for visitors' convenience and safety.  Vehicle rental companies can be found in big cities, airports, and bus or train stations.
Traveling by car, motorcycle, and bicycle is convenient traffic signs are in both Thai and English.
Boat
Thailand has two long coastlines: the Gulf of Thailand and the Andaman coast islands.  Also, there are many rivers and canals in Thailand, including in Bangkok, which once was called 'the Venice of the East.'  The long-tail boats are a main transport on rivers and canals in Bangkok and neighboring provinces. 
 Major Exhibition Venues in Thailand
Bangkok:
Bangkok International Trade and Exhibition Centre
The Bangkok International Trade and Exhibition Centre (BITEC) just underwent a significant expansion. New facilities, event halls, and connectivity feature the latest in architectural design and quality. Within easy reach of the city Centre, the venue is ideally located along the BTS Skytrain system, Bangkok's major transport network, making it one of the most accessible and convenient entertainment centers in the region with a total of 70k sq. m. of usable space.
Queen Sirikit National Convention Center
QSNCC is in the heart of Bangkok's business district and surrounded by 3-5-star hotels. It is conveniently accessible by BTS Skytrain, MRT Subway, taxi, bus and car, and just a 45-minute drive from Suvarnabhumi Airport. QSNCC's MRT Subway station offers mass transit connectivity to the Airport Rail Link as well as to hotels, world-class shopping centers, and many city attractions. QSNCC has 65k sq. m. of space. The layout emphasizes a traditional Thai structure, yet boasts a full range of equipment and facilities, including a simultaneous interpretation system, wireless internet system, 1,000 permanent direct-dial international telephone lines, in-house food outlets, a restaurant, and other supporting amenities. Over the past two decades, QSNCC has hosted numerous prestigious gatherings on national, regional, and global levels, earning a worldwide reputation as a well-run and well managed national convention center. QSNCC is administered by the Thai Ministry of Finance's Treasury Department and remains a public asset. However, it is under private sector management by N.C.C. Management & Development Co., Ltd.
The Royal Paragon Hall, offering 12k sq. m. of space, is one of Asia's most modern halls, strategically located on the 5 of the Siam Paragon Shopping Center, in the heart of Bangkok. This ultimate Royal Paragon Hall is conveniently accessible via the BTS elevated train and a comprehensive network of brings delegates and visitors across the world directly to our doorsteps. This versatile world-class venue is managed and operated by Royal Paragon Enterprise Co., Ltd., a fully integrated establishment hosting a vast array of MICE events and beyond with a whole gamut of comprehensive services and one-stop facilities to ensure that your events reign supreme with flying colors.
Khon Kaen
Khon Kaen International Convention and Exhibition Center
Opened in 2017, Khon Kaen International Convention and Exhibition Center ( KICE) is one of the most comprehensive, versatile MICE venues in the northeastern region of Thailand. The long-span megastructure includes 7,510 sq. m. for indoor and 4,680 sq. m. for outdoor. The main exhibition hall is multi-purpose and can cater to all types of events. With the growing economy of neighboring countries, KICE is positioned at Khon Kaen to be the heart of this burgeoning prosperity.
Pak Kret, Thailand
IMPACT, exhibition center, is one of Asia's largest exhibition and convention center and one of the preferred destinations in Thailand with 176 sq. m. of space consisting of an arena, convention center, and exhibition halls. Located in Muang Thong Thani, Nonthaburi Province, a northern suburb of Bangkok, Thailand, IMPACT is the second largest exhibition and convention venue in Asia with an indoor floor space of over 140,000 sqm. Its Challenger Hall is currently the world's largest column-free exhibition hall. The venue hosts over 490 events and welcomes over 15 million visitors each year.
Chiang Mai
Chiang Mai International Exhibition and Convention Centre
Chiang Mai International Exhibition and Convention Centre (CMECC) is one of the largest convention and exhibition center in Southeast Asia. With usable space of 60,000 square meters, the center is perfectly prepared for all types of events at both national and international levels. The Convention and Exhibition Centre is composed of two buildings. The main exhibition and convention hall is a large 2-story building, including exhibition halls, convention halls, and meeting rooms. Three interconnected exhibition halls with a combined column-free space of 8,000 square meters can accommodate more than 10,000 people. CMECC provides a large convention hall with 1,700 square meters, 29 meeting rooms, and other supporting facilities. CMECC is a 15-minute drive to Chiang Mai International Airport
Know Before You Go: Thailand Facts
The population of Thailand is. more than 68 million
Show organizers are both local and global
Thai labor law allows employees to form unions and setting requirements. Check with the organizer for each venue.
Move-in is usually 1-2 days, while move out is very much like in the US—right after the close of the show.
Detailed drawings of stands and specification of materials need to be submitted to the organizer and venue for approval.
Voltage is typically 220-240 AC—and you need to have electrical work performed by certified electricians.
Regular set up hours are Monday-Friday. Weekends and public holidays are charged at overtime.
Like so many Asian countries, the carpet is needlepunch.
Expect raised flooring.
Imported exhibit materials are priced at a premium.
Because of the explosion of industry throughout the country, Thailand has instituted many sustainability initiatives to lessen the environmental impact of progress.
 Finally, the Food!
Thai food is a balance of five flavors: sour, sweet, salty, bitter, and spicy. Some Thai dishes have a careful blend of all these tantalizing tastes.  As well as many herbs and spices used in Thai food, fish sauce is often used to mellows the flavor. There is a tremendous variety of Thai food, both main dishes and desserts. Local foods are different in each part of the country. Northern Thai meals usually feature sticky rice, Nam Prik (spicy chili paste), fresh vegetables, and soup. Northeastern Thai meals are famous for their spicy and sour dishes and an essential condiment Pla Ra (fermented fish sauce), while traditional southern foods are well-known for their herbs and spices. There is also a lot of Chinese influence. Many Chinese restaurants and fusion foods exist in Thailand side by side with the authentic Thai cuisine restaurants.