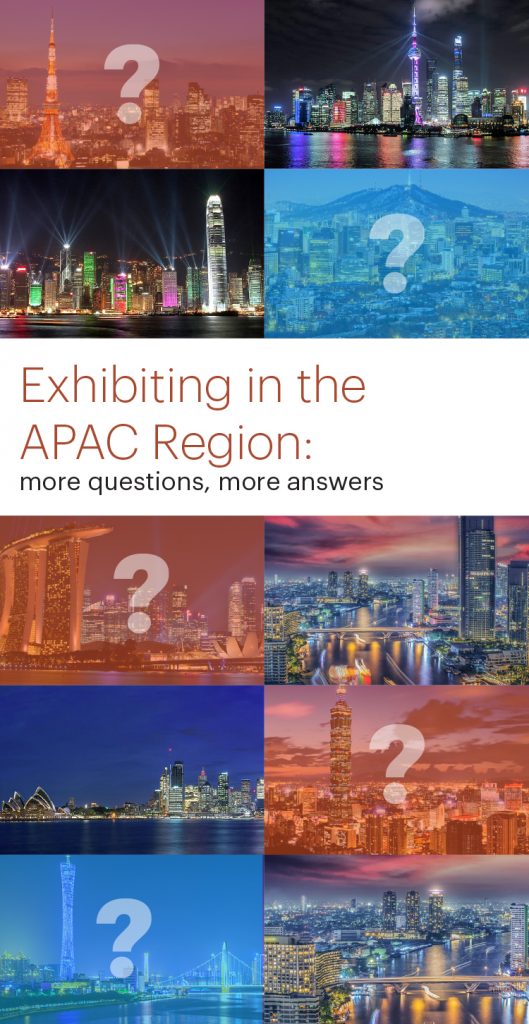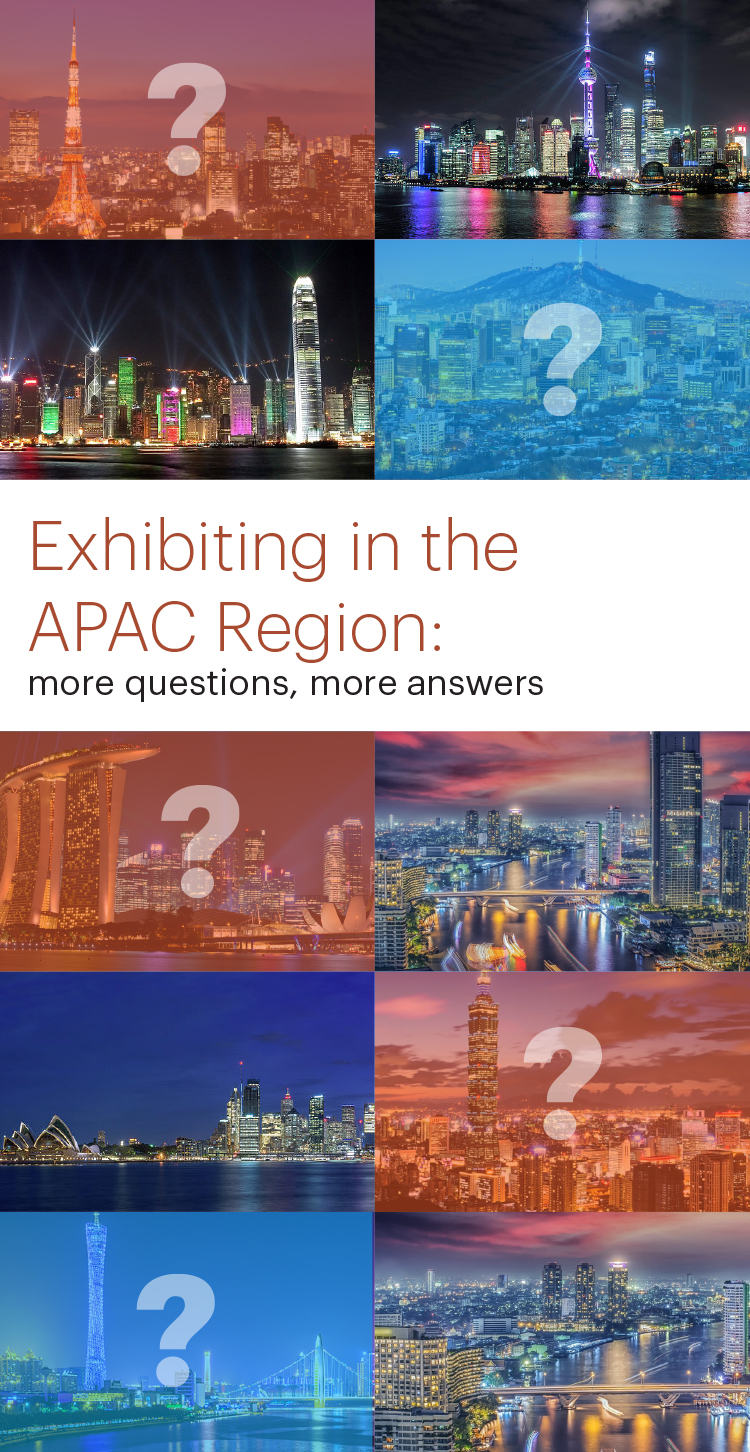 In our last newsletter (if you missed it, you can find it here), we answered some questions about the APAC region that many people are shy about asking. When it comes to our part of the world, exhibitors usually have more questions than answers—and that's why we're devoting one more newsletter to those questions.
In the previous newsletter, you mentioned that healthcare exhibiting is particularly strong in the APAC region. Could you explain why?
The APAC region is the fastest-growing part of the world—and with that growth, particularly the growth in population, comes a focus on healthcare. For example, according to Asia Health, the lead centers for oncology research are China, Japan, South Korea, and Taiwan. Each market focuses on the cancers common in their own countries.  In addition to the area's own global healthcare giants such as Otsuka and Astellas, many leading life science companies such as GSK, Novartis, Pfizer and Johnson & Johnson operate in the area, leading to an increased awareness of the trends in this market. There are global health issues as well as those unique to the area, such as an aging population and the impending expiration of patented drugs. All these forces combine to make healthcare exhibitions vitally important with attendees coming not just from the APAC region but from around the world. Plus, as the APAC region moves—at different speeds—to a more urban (vs. rural) population, people are paying more attention to their health.  Because we work with some of the largest healthcare companies in the world, we are significantly up-to-date on the healthcare industry.
If I exhibit at CES in the US, should I consider exhibiting at CES Asia?
Yes, by all means. With attendance in excess of 40,000 from over 80 countries, 1,200 members of the global media eager to find out more about your products and services, and more than 6,000 senior-level executives, CES Asia will give your brand a powerful boost.
I've read that there is an almost insatiable interest in consumer goods. Is that reflected in trade shows?
Absolutely. With urbanization come higher income levels and the desire to enhance lifestyle. Fashion, cosmetics, travel, and of course auto shows are major draws for exhibitors who want to expand their market share—and expansion into the APAC region can be astronomical. Several of our recent clients have opened headquarters here because of the growth of their markets.
With growing markets, are events and activations part of the face-to-face marketing offerings?
Yes, they are. You have to remember that the APAC region lags behind the west, particularly the US, when it comes to marketing. When companies here see something that is spectacularly successful in the US, they want to adopt that model.
You mentioned in the previous newsletter that there are, according to the United Nations, 48 countries in the APAC region. Are exhibit practices all that different?
The operative word here is "countries," and yes, they are all that different. In the US, contiguous states have slightly different labor environments, but other than that, you don't have to worry about the differences between working in San Francisco and Orlando. In the APAC region, we have contiguous countries—each with their own language, culture, holidays, practices, history, and, yes, exhibiting environments. For western exhibitors, the situation from country to country can be close to impossible to navigate without the proper education—or without a partner like us, Idea International.
So, okay, what does Idea International do?
Glad you asked! Here's what we do:
take your project from the initial planning stages through the close of the show.
negotiate with labor companies, organizers, hotels, and vendors of all sorts.
consult with you to learn what your exhibiting goals and objectives are.
design an exhibit or adopt an existing design that works for the country and the venue.
make sure that your exhibit does not violate fire codes.
select commonly used materials available in the country so that your exhibit is culturally relevant and within your budget. For example, if you insist on plush carpeting when the standard for the region is needle punch, you will probably go over budget.
help you find a competent, industry-savvy translator when the show calls for one.
engage the right kind of hospitality for your stand. Because of cultural nuances, hospitality can be appropriate—or way off base.
As with any exhibiting project, the actual dollar amount spent, including travel, dictates that you want to do it right, to get the best return on that investment. Anything that will alienate the local attendees, particularly the business community, paves the road to disaster.
Last question: can you give an example of an exhibit solution that was unique to the country or venue?
When companies come to the APAC region, they want as much brand consistency as possible. In bringing their exhibiting experience here, they often want a hanging sign. In Japan, for instance, because of earthquakes, hanging signs are not the norm. But do you know what is? Inflatables! Rather than a hanging sign, a fantastic balloon provides the high identity exhibitors want. You have to know these things. It's a specialized knowledge, and that's why companies choose to work with Idea International. After more than 15 years, we are familiar with the unfamiliar.
Feel free to ask us questions.  We are here to help empower you and eliminate the "smoke & mirrors" anxiety associated with exhibiting in the APAC region. We want you to know what to expect.
Do you have a question we didn't answer? Click here to ask us.