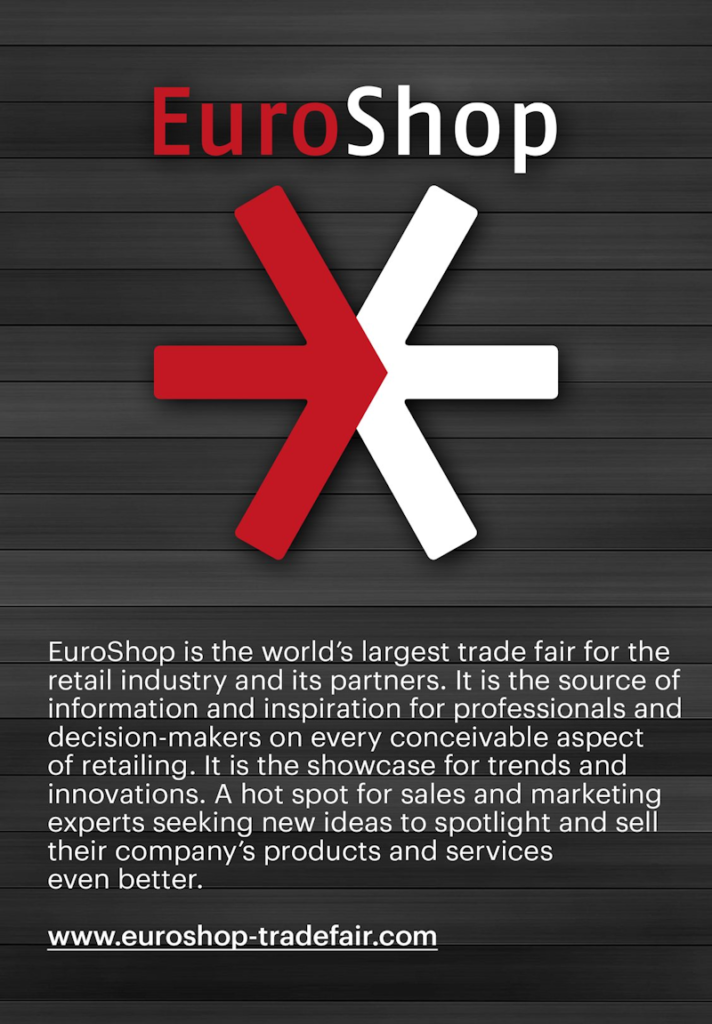 Planning on Going to EuroShop?
The 2023 EuroShop trade fair opens in Dusseldorf on February 26 and runs through March 2. If you plan to attend, like any other trade fair attendee, you probably have some expectations. After all, if you are in North America, deciding to travel to Germany, particularly after the past three years, involves commitment.
If you have attended EuroShop in the past, you will have noticed significant changes throughout the years. Those of us who are EuroShop veterans remember when there was almost a complete absence of fabric in exhibits because of European fire codes. That has certainly changed.
One significant change this year is that there will be only one hall for expo and event marketing. Previously there have been two halls (out of the seventeen dedicated to the fair) to showcase these products. Hall 1 will be home to the offerings of both familiar exhibition companies and some new entries to this category. The IFES Global Village will also be in Hall 1, a can't-miss networking site.
We Can Learn So Much from Retail
But that leaves another 16 halls—all of them devoted to retail. Rather than dismiss the opportunity to learn what is new in retail at EuroShop, we suggest you approach the retail exhibits as sources of inspiration. In Japan, retail and its influence are important to our business and continues to teach us a lot about exhibit design as well as store fixturing. Start with taking in the structure of the retail exhibits. Remember, retail seeks to engage you—usually in the role of the consumer–emotionally and intellectually. What works for you? Like all trade show exhibits, these retail displays aim to break down resistance to buying products and services via the sensory experience of touching, smelling, hearing—and maybe tasting—the offerings.
In much the same way as the retail experience forges an emotional connection to brands, so trade show exhibits can establish the same bond, merging emotion and intellect. In both cases, the displays suggest solutions—whether to the challenge of what to wear to a wedding or the best software to handle point-of-purchase interactions. Likewise, exploring the retail halls will help you find new ways to attract buyers.
Lighting and Materials
As you explore the rest of EuroShop, pay particular attention to Hall 9, where you'll discover new trends in lighting, and Hall 13, devoted to new materials and surfaces. Ideas for visual merchandising are abundant. Notice the use of space. Outside of the US, exhibitors can use the entire cubic content of their spaces. At EuroShop, you can absorb new attitudes toward floors, walls, and logistics. The cross-pollination of retail and trade fairs can be an inspiration. After all, both start with a concept. Both are customer focused. Both are designed to push decisions to purchase the products and services shown in the space.
What about Online?
Retail and trade shows alike have learned that digital is a fact of life. Early on, retail met the onslaught of online buying head on. And while a total channel resolution hasn't happened yet, digital and analog have learned to co-exist. Online shopping is not going away, but neither is the face-to-face encounter with brands and products that shoppers find in stores. Experiencing the brand in person is still important in establishing preference. And let's not forget the impact of social media. TikTok videos drive consumers of all stripes to investigate possible purchases, and the influencers on YouTube haven't gone away. Likewise, Facebook advertising is still effective.
What about the digital component of trade shows? The trade show world lags in coming to terms with the impact of digital, but we're catching up. During the pandemic, suppliers and buyers had only digital to drive sales and share product information. Interestingly, after decades of hearing that trade shows would be replaced with online experiences, it took less than a year for most of us to be skeptical of that prediction. While we felt that our budgets would be threatened by the omnichannel approach that found its way to marketing departments, we are learning to incorporate digital with our in-person efforts.
And here are lessons to be learned from retail—resilience in the face of what seems like the encroachment of digital amd how to enhance the customer experience. For example, exploring the innovations on display to engage the retail customer, while not necessarily applicable to the trade show industry, can act as a catalyst for innovation.
Enjoy the Experience—And Tell Us What Inspires You!
So here's our advice: start in Hall 1, see what's new for the expo markets, network in the IFES Global Village, then visit the rest of EuroShop. See what possibilities you can take home from the world of retail, get inspired—and call us! We know how to bring your inspiration to life on the trade show floor.