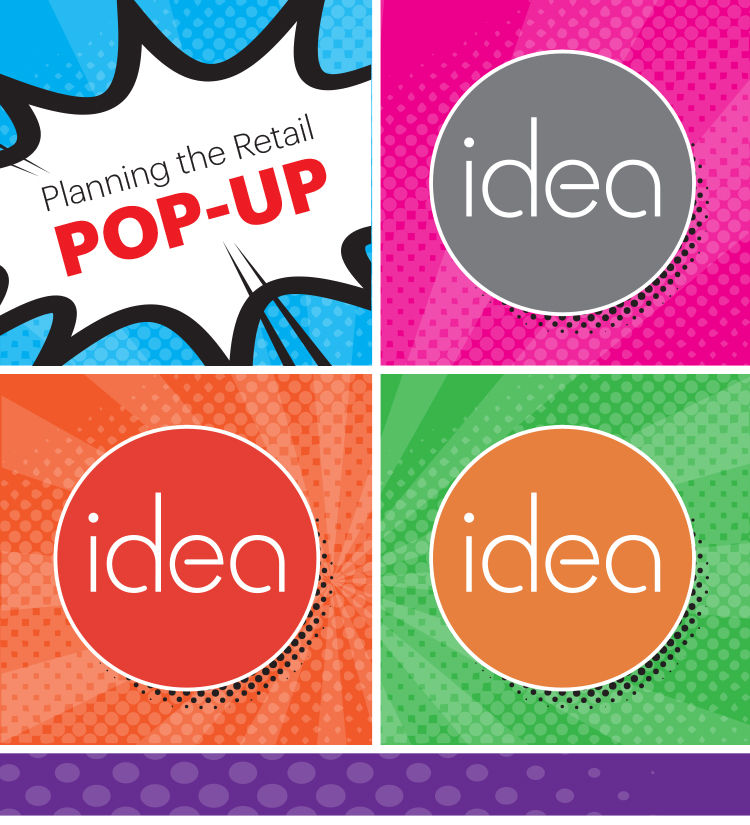 Planning a Retail Pop-up Store?
Japan has made many incredible contributions to popular culture—from Toyota to Pokémon. One of Japan's often overlooked exports is the pop-up retail store. Nothing approximates a trade show like the retail experience. Relying on the key elements in planning a retail pop-up store means you include everything from architecture and lighting to staffing/customer interaction and digital technology for memorable engagement and data collection. Just like a trade show.
While retail seems to be having a tough time retaining its foothold in many parts of the world, Japan continues its love affair with the shopping experience, and pop-up stores heighten the excitement and buzz that are part of their attraction.
Idea International, in addition to delivering stunning exhibits to exhibition floors throughout the APAC region, is a go-to partner for the pop-up experience and other retail installations. Let's explore why we are uniquely positioned to provide the optimal solution for pop-up retail and planning a retail pop-up store.
The goal of retail brands is establishing long term emotional connections with their customers–exactly what exhibitors seek to do in a compressed space and time (and what pop-ups do in a slightly more extended period). Architecture, contextual lighting, and digital innovation—in short, everything that both the retail and the exhibition industries need to be successful and foster brand loyalty.
The decision to introduce a pop-up experience to the market requires a strategy like that of the trade show, and like trade shows, pop-ups are data-driven. Consider these similarities:
Set Goals
Why are you choosing to open a pop-up retail shop? Perhaps it's because you want to get to know your customers better. Or you want to create something exciting in your own space. Maybe you want to tap into their FOMO or fear of missing out; the fact that a pop-up exists for a limited time is an incentive for customers to come. We're familiar with goal-setting, and we always encourage our exhibit clients to have a clear idea about why they are exhibiting at a show, assessing the situation, and deciding what they want to get from their investment.
Determine the Best Time
The retail calendar is cyclical, and there are better times to launch a pop-up than others. What determines the best time? Major industry events. Weather. Tourism. All or any of these factors come into play when you are in decision-making mode. At trade shows, for example, product launches should be timed to specific shows to make the most significant impact on the market.
Enlist Partners
Not competitors but partners. For example, if you are displaying clothing in your pop-up, a beverage partner is perfect. The right partnerships produce a win-win scenario. Brainstorm with your marketing team to figure out what goes best with your products. Technology companies, in particular, have always invited partners to their exhibits. Rather than detracting, partners enhance the experience in planning a retail pop-up store.
Decide Exactly What you are Going to Display
Because this is a limited engagement, you should consider a very defined brand presentation. If you are going to present more than one product line, decide how you will connect them in the space. We do this all the time with trade show exhibitors and can help, particularly because we are probably more objective about your brand options.
Make it Fun!
One of the hallmarks of a successful pop-up is its social media potential. This has a way of transmitting itself to a wider market and influencing a broad-based audience. Have a selfie wall, do something cool with the floors, make sure you consider the forgotten surface—the floor in your space. Trade show exhibitors, while like pop-up retailers, operate strategically, at the end of the day, they want their attendees to have an enjoyable, memorable visit.
Design a Customer Journey
The journey is part of the fun. The design of the pop-up should consider a few things. First, generally speaking, people turn to the right when they enter a space. Secondly, there is something called the 'decompression zone,' which is 5 to 15 feet inside the area. The journey clarifies your brand or product promise and story, whether the journey is visual or intuitive.
Engage the Senses
Timeless advice for trade show exhibitors, and undoubtedly true for the pop-up experience. The smells, the sounds, the sights. Something to touch and feel. The more sensory appeal built into the space, the more enjoyable the customer journey, the more memorable the experience.
Be Mindful of the Details
The layout of the space is critical. Think about how you are staffing the pop-up; your staff must look and act as part of the entire experience. You can't afford to staff with people who are not 100% engaged.
Don't Neglect the Local Codes
In safety-conscious Japan, each city and district has rules and regulations for public spaces. Materials must be fireproof, and structural engineering drawings and the building process must be approved before building—even temporary building begins. In that, pop-ups in Japan are identical to trade show exhibit reviews.
Privacy Laws cover Using Customers' Photos on Social Media
Pop-ups are almost designed to be backdrops for social media, particularly Instagram. Japan, like many countries, is strict about using personal photos for promotion. Customers need to consent.
Location
Like the optimal location on the trade show floor, your pop-up plan must include the best location to achieve your goals. The good thing about pop-ups is that there is no long-term space commitment, so deciding on a location is easier than hammering out leases. Still, you want the site to speak to the experience, so be mindful of where you choose to build it. Remember, since this isn't a permanent location, you can select a spot in a part of town that communicates its own identity.
Integrate Technology
So much is available not only in the trade show world but also in retail spaces. Depending on your product, augmented reality, virtual tours, or innovative lighting can heighten the experience for your customers.
Measure your Success
How will you know if your investment was worth it? Social media posts, a must-have for pop-ups is one way. But more than that, you want to establish long term relationships with your customers. You don't want them to leave and never have any connection with you again. More and more museums, for instance, use QR codes for visitors to scan after they leave as a way to stay in touch with the museum. The same works for retail. When you have a connection to the audience that extended beyond the pop-up, you can deliver new product information, communicate about relevant happenings, or introduce them to new partners. The possibilities are there, but you must prepare for it before you open the location.
At Idea International, our skillset as a preferred exhibit partner in the APAC region means that we are more than shopfitters. We are retail strategists and can help you make your pop-up wildly successful. You will benefit from our experience in environmental design, lighting expertise, space planning, and so many other capabilities that are integral for you to meet your goals. Contact Idea International Today!