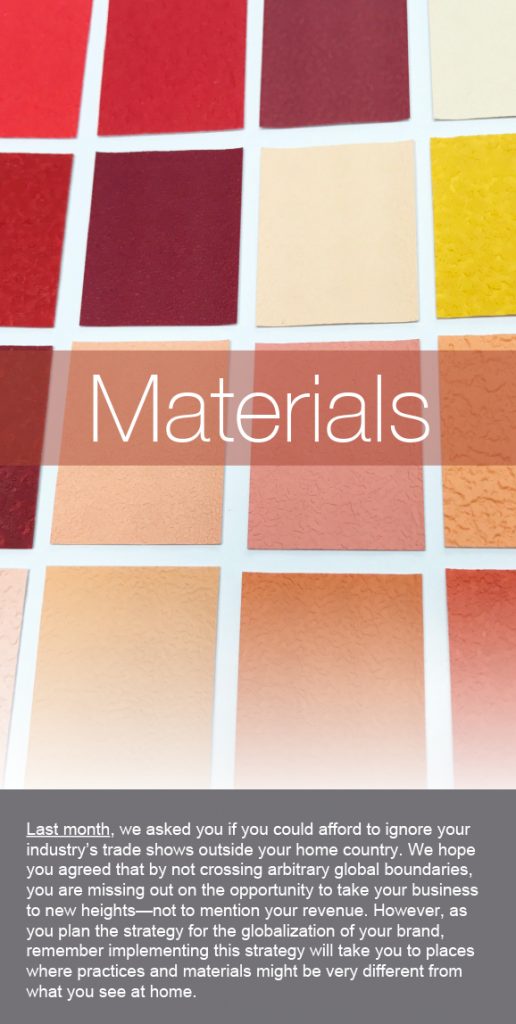 What do we mean?
The brand experience is consistent — the materials don't have to be!
Because Idea International works in the APAC region, let's focus on what you might find. It's important to trust your partner and leave your expectations about "what we always do" at home. Embrace the culture and the differences!
For example, the walls and surfaces of your domestic exhibit might be finished in laminate, but
in Japan, laminate is unpopular. There are few domestic manufacturers and storage is limited. Importing laminate is costly, and eco-friendly Japan creates hurdles for a material that is not recyclable. Wallpaper and vinyl are used in its place and compared to laminate selection, the choices are staggering. Show floor workers are skilled in applying both wallpaper and vinyl, and the look will resonate with the local market.
In China and Korea, spray finishes are the premium option.
In Singapore, roll-paint and laminate are commonly used.
And what about carpet? Instead of the deep pile carpeting and double padding used in the U.S., in the APAC region, the standard carpet is needle punch, which requires less storage, can be produced inexpensively and is easily recyclable.
The hanging sign, a staple of U.S. exhibits, is uncommon in the APAC region. Various restrictions, insurance liabilities, and the actual exhibit hall ceilings make this an unattractive option. On the other hand, ambient lighting in exhibit halls can very easily come from skylights.
Pantone Matching Systems (PMS) are used the world over. There is no reason that the color and design of your logo should not be the same wherever your exhibit program—and your markets—take you.
Choose a partner familiar with the growing number of venues in the APAC region and who knows the limitations, opportunities, and possibilities each unique venue presents. Communicate your goals to your partner, then trust that they will execute to your strategy using the most popular and efficient materials.
By embracing local customs and processes, your program is cost effective. Ask yourself: are you really adding value by doing what you always do at home?
Christopher Dorn