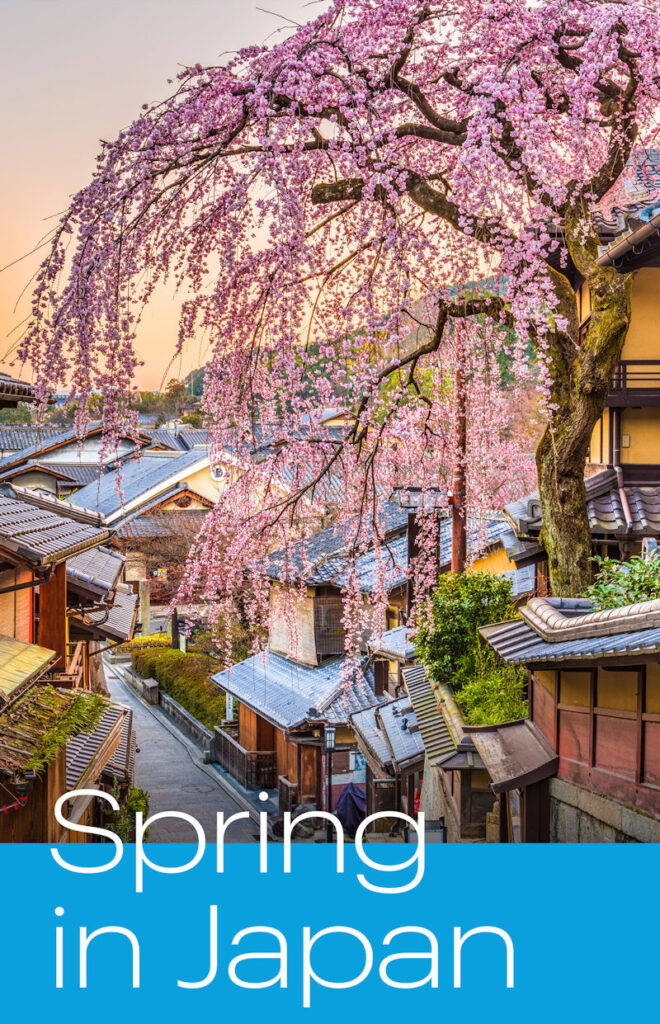 It's springtime in Japan—and we miss you!
In a country where the first habitation is traceable to the Paleolithic era—around 40,000 BC—not much disturbs the collective consciousness of the Japanese people who have survived whatever the world has sent their way. And that is still true today, especially when it comes to welcoming spring. 
Spring in Japan is a short, special season. Winter is over, and the heat of summer hasn't arrived. In Japan, spring ushers in a sense of renewal, optimism, and rebirth which characterizes the spirit of the country. Japanese people are particularly attuned to the seasons and what they mean. Some of this awareness comes from cultural norms, but much of it comes from nature itself.

Flora
The first thing that comes to mind about Japanese spring is the arrival of the cherry blossoms on the sakura trees. The long-established custom of hanami (cherry blossom viewing) brings together friends, family, and coworkers to picnic beneath the sakura trees in full bloom. Hanami, says one writer, only requires a tarp and some refreshments—and if the cherry blossoms aren't blooming where you are, they're blooming a short train ride away.
But the floral celebration of spring isn't limited to the cherry blossoms. Festivals of flowers are everywhere, celebrating tulips at the Tulip Festival in Sakura City in Chiba Prefecture;  azaleas at the Bunkyo Azalea Festival in Tokyo or at the Komuroyama Azalea Festival on the Izu Peninsula, Shizuoka Prefecture; wisteria at the Kaleido Tenjin Shrine Wisteria Festival or at the Ashikaga Flower Park; the Nemophila Harmony at Hitachi Seaside Park; and the Pink Moss near Mt Fuji.  

Food
Spring also brings with it special food. Cherry blossom-themed treats are everywhere, including Starbucks, where you can find an assortment of innovative pink food and drinks. Kit Kat, a popular item in the Japanese diet, has a special sakura offering.
 In Japan, the strawberry is a special delicacy. There are 312 varieties of strawberries grown in Japan, and experts estimate, globally, Japan has the highest strawberry consumption. Strawberries are in season from January to May, a long season because strawberries are grown throughout Japan, and each region has its own growing seasons. Because strawberries are plentiful, that doesn't mean they are inexpensive, with some selling up to 1,000JPY($9) each. Hotels and restaurants offer themed "strawberry dessert buffets," and strawberry farms around Japan offer all-you-can-eat strawberry picking 
If your tastes run to something less sweet, enjoy detoxification from the seasonal bamboo shoots, aralia elata, Japanese butterbur, and other wild greens such as soft seaweed.

Festivals
Hana Matsuri (or Kanbutsue) is a festival held on April 8 each year in most of Japan's Buddhist temples to celebrate the birth of the historical Buddha. "Hana Matsuri" means "flower festival," and in setting the April 8 date, the celebration is sure to coincide with the blossoming of the sakura trees.
Of the historical castles in Japan, only 13 remain of the hundreds that once dotted the country. Most of them now hold festivals in April with parades and food stands and are ideal sites for hanami.
Festivals range from celebrations of Japan's hot springs and traditional folk dance (Bon Odori) to the amazing Japanese kites (Takoage) and boats, all featuring festival floats (hikiyama).
The end of April brings us into Japan's Golden Week, which begins with Showa, a celebration of the birthday of Emperor Hirohito. The rest of the week includes Constitution Memorial Day, Greenery Day, and Children's Day—each day with its own special festival.

Until we meet again in person…
Japan is unflappable, and our people are optimistic and appreciate the sense of renewal and rebirth felt throughout the country. But like spring, all this is short-lived, and in Japan, we also remember the ephemeral, transitory nature of everything. It is part of the national consciousness of cycles—the seasons, beautiful growing things, and history.
Springtime in Japan is special, and we can't wait until you can return to experience it with us. Meanwhile, business and commerce continue. Japan's fiscal year ends on March 31, so spring marks the beginning of the business year. The school year begins in the spring as well, and recent graduates start their new jobs. The fresh grass is coming up, and the temperature is almost perfect. And yes, our trade shows go on with strong attendance. 
Face-to-face events are critical to doing business in Japan. Let us know how we can develop a presence for you even if you can't be on site. Contact us today to learn how we can harness the energy and spirit of Japan to grow your business.