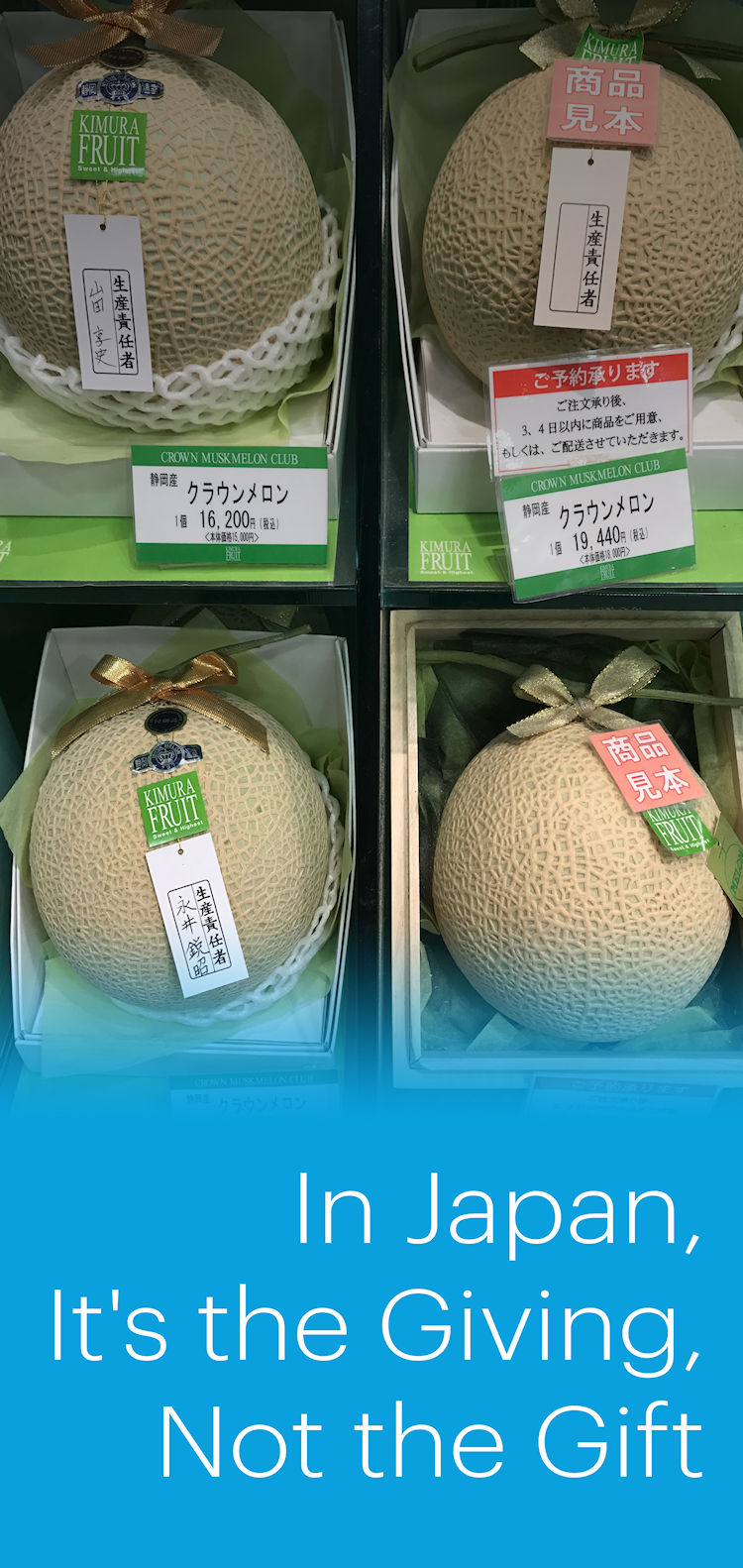 Japan's unique cultural norms often perplex Westerners – not because these norms exist but because Westerners are eager not to offend through ignorance. High on the list is the etiquette of gift-giving in Japan. Steeped in tradition and formal etiquette, giving a gift is basically ritualized, and the act of giving is often more important than the gift itself.

Traditionally, there are two occasions for giving gifts in Japan: Ochugen, a summer holiday when gifts are given as a sign of gratitude, and Oseibo in December, which signifies indebtedness to the recipient. Usually, the gifts are food or alcohol and are given to family members, close friends, or colleagues, keeping with the Japanese custom of Giri or repaying a favor.

Then there is Omiyage when travelers bring back gifts for family, friends, or coworkers. This dates back to when fortunate people would make pilgrimages and return with gifts for those who couldn't go. Not unlike the shops in New York's Times Square, many Omiyage shops sell souvenirs and appropriate gifts such as expensive fruit and alcohol.

But as the world gets smaller, Western influence has brought extended gift-giving for holidays such as Christmas, birthdays, Valentine's Day, and more. Here is what you need to know about gift-giving:
Give and receive the gift with both hands to show respect.
If you are the recipient, modestly refuse the gift up to three times before (finally) accepting.
Giving a gift to only one person is considered rude when a group of people is in a room.
Likewise, it isn't polite to open a gift in front of a large group.
Gifts are given at the end of an encounter; gift-giving before the start of a meeting is viewed as rushing the relationship.
The presentation of a gift is almost as important as what's inside the gift box.
In Japan, gifts are wrapped beautifully with bows, ribbon, beautiful paper, or with cloths, which can be reused. These cloths are called Furoshiki, another long-standing tradition.
In Japan, tape isn't used for gift wrapping.
The color of the wrapped present is critical, with pastel colors being the best choice. Bright colors are considered showy, and red is associated with funerals.
Giving a gift in pairs is lucky but avoid fours and nines of anything.
The last point brings up further etiquette:
On Ochugen and Oseibo, gifts range from food or alcoholic beverages to items bought in department stores.
If you're giving a child a gift, electronics are a good choice.
When visiting the sick, bring flowers, but not brightly colored or highly fragrant flowers. Above all, don't bring potted plants.
On Valentine's Day, introduced to Japan in 1936, women give chocolate to male friends and coworkers. Favored men get the best chocolate, while unpopular men get the cheap stuff. On March 14, "reply day," men are expected to return a gift of at least three times the value of the gift given, often jewelry. Failure to return the Valentine's Day gift indicates that the man thinks he is too good for the woman who gave him candy.
Wedding gifts are usually money, given in an envelope with an even number of bills. When the newlyweds return from their honeymoon, they are expected to bring back souvenirs for wedding guests.
When a baby is born, the child's parents give gifts to their families and friends to mark their child's birth.
Business Gifts
When you travel to Japan for business, a good practice is to pack a few small gifts, so you can reciprocate if presented with a gift.
Bring something from your own country, but whatever you do, avoid giving an item that displays your corporate logo.
A good idea is to give items with high-end brand names. (One US CEO brings a supply of Mont Blanc pens to use as gifts.)
Try to find a private time to present your gift to one person, but don't surprise them. Instead, let them know, subtly, that you intend to give them a gift.
Often, your gift will not be opened in front of you; in that case, don't open your gift.
If you give a gift to a team, food like fruit or chocolates is a good idea.
Downplay the importance of the gift, no matter what it cost. This is a way to say the relationship, not the gift, is most important to you.
Acknowledge the corporate hierarchy with your gift if your recipients are not of equal rank.
Keep the gift out of sight and present it at the end of the meeting.
Finally, if you are not traveling from outside Japan but are traveling to another region in the country, Omiyage or edible souvenirs is a gift to bring back to your office.  Most major train stations offer wrapped boxes of Omiyage featuring famous snacks and confections that the city or region is known for, such as Tokyo Bananas, Kyoto's traditional yatsuhashi—a flavored sweet that is a traditional souvenir—or a cheese tart from Sapporo featuring Hokkaido dairy products.

At Idea International, in addition to providing a memorable face-to-face experience for brands, we can help guide you through the intricacies of Japanese culture. Contact us today.