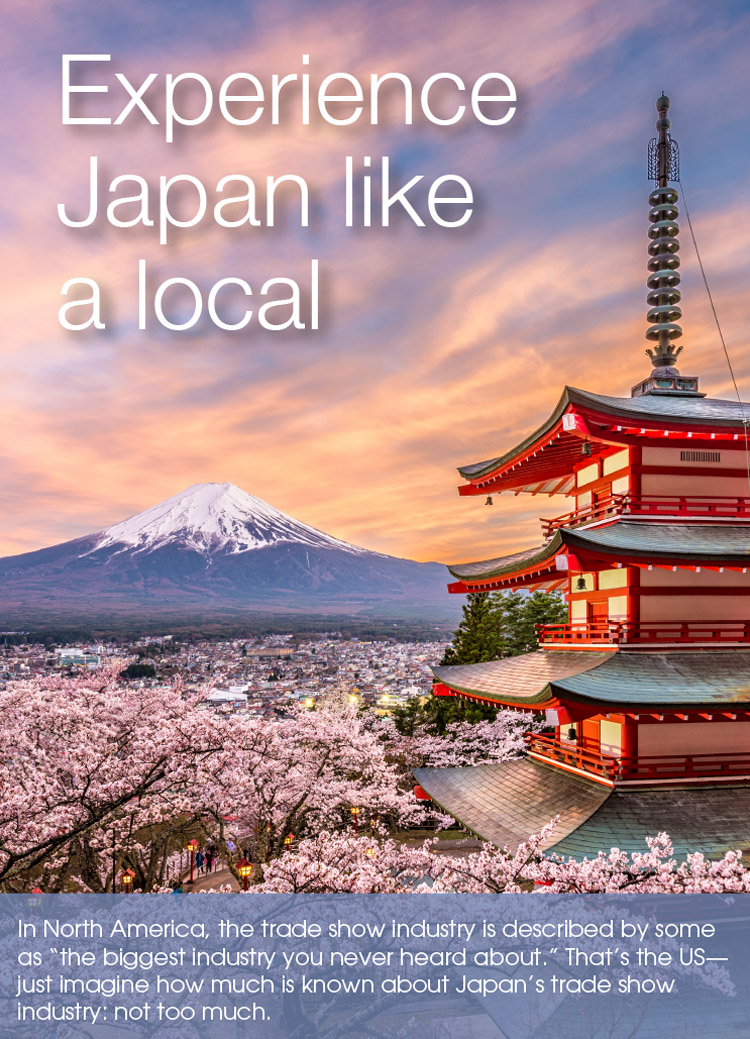 Currently, Japan is preparing for the 2020 Olympics. Tokyo's The Big Sight will be one of the main venues for the games. The Olympics are creating excitement and a visitor-friendly atmosphere that carries over to trade shows.
For example, when you arrive in Japan, don't take the $100-$200 USD taxi ride from the airport. Now you can buy the "Greater Tokyo Pass" at the airport (either Narita or Haneda). Only available to foreign visitors, the pass allows you to take unlimited rides on railroads, streetcars, and buses for three days at a single price.
Airbnb has taken off in Japan, and visitors are finding the chance to see how "real people" live appealing. Search for a place to stay on Airbnb.com, just as you would at home.
Does getting lost and exploring a city appeal to you? Bike rentals are extremely popular either from agencies scattered throughout the city or, more and more commonly, from your hotel.
The Japanese are in love with baseball, so get out of the exhibition hall and your hotel room and see a baseball game. Tickets are available at the stadiums, ticket agencies, or convenience stores.
Baseball too tame? Take in a sumo match. There are six main tournaments throughout the year, plus more frequent sumo exhibitions. You can also visit a sumo-beya to watch a morning practice.
Visit a Japanese pub called an izakaya. They are usually noisy, bright, and smoky. End your workday or start your night at an izakaya where you will find cocktails, sake, draft beer, and lots of inexpensive Japanese and Western food. Picture menus make ordering easy, and cocktails have the same names the world over. Near The Big Sight, try izakayas like Funacyuu, Gazen, or Hoozukiya.
No tipping in Japan! The Japanese pride themselves on service and gentility. A service charge may be added for parties of six or more if you are eating at a large hotel or at a restaurant that caters mainly to tourists.
The entire country of Japan is in the same time zone and does not observe daylight savings time, so making plans is easy. The country is nine hours ahead of the GMT.
At Idea International, we want you to experience our country like a local. We'll be happy to give you suggestions. Watch for more tips on seeing Japan like a local in future newsletters. When you exhibit in Japan, working with a local company like Idea International is not only important for the quality of work we do but also for the depth of our knowledge about the exhibit industry—and about having a memorable time in Japan.