Exhibit fabrication! Wouldn't it be wonderful if "exhibit fabrication" meant the same thing in every country in the APAC region? But nothing could be further from the truth, so when you are planning to exhibit at a show in the APAC region, you should be aware of exhibit fabrication practices from country to country.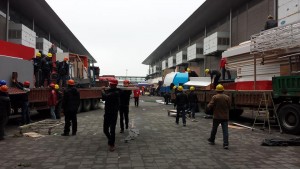 In Japan, for example, wallpaper is commonly used in exhibit fabrication as opposed to laminate. Why? Because storage in Japan is at a premium, and wallpaper is easy to apply and can be recycled. Any structures requiring rigging are not common because of earthquake regulations and cost. On the other hand, floor supported structures are common—and so are inflatables! Japan venues strictly enforce regulations, including fire-proofing fabric.
Exhibit fabrication in China, on the other hand, can feature high-end, high gloss spray finishes. In China, as in European countries, raised floors are common, and although rigging is allowed, the smart exhibitor will notify the organizer about rigging needs well in advance of the show. Unlike the U.S. in China rigging is calculated by the points of attachment.
If your show is in Korea, wallpaper once again plays a role in exhibit fabrication as do spray and vinyl-type finishes. Surprisingly, carpet is often installed after the booth is set-up, and roll on flame-retardant is applied on site. Rigging is a fairly new concept in Korea and is very expensive.
In Singapore, exhibit fabrication is so costly that most properties are built in Malaysia!
These examples are just a sample of exhibit fabrication in the APAC region with variations from country to country. Smart exhibitors will find an experienced partner to guide them through a country's processes and practices—not just exhibit fabrication, but the labor situation, electrical requirements, hanging signs and lighting.