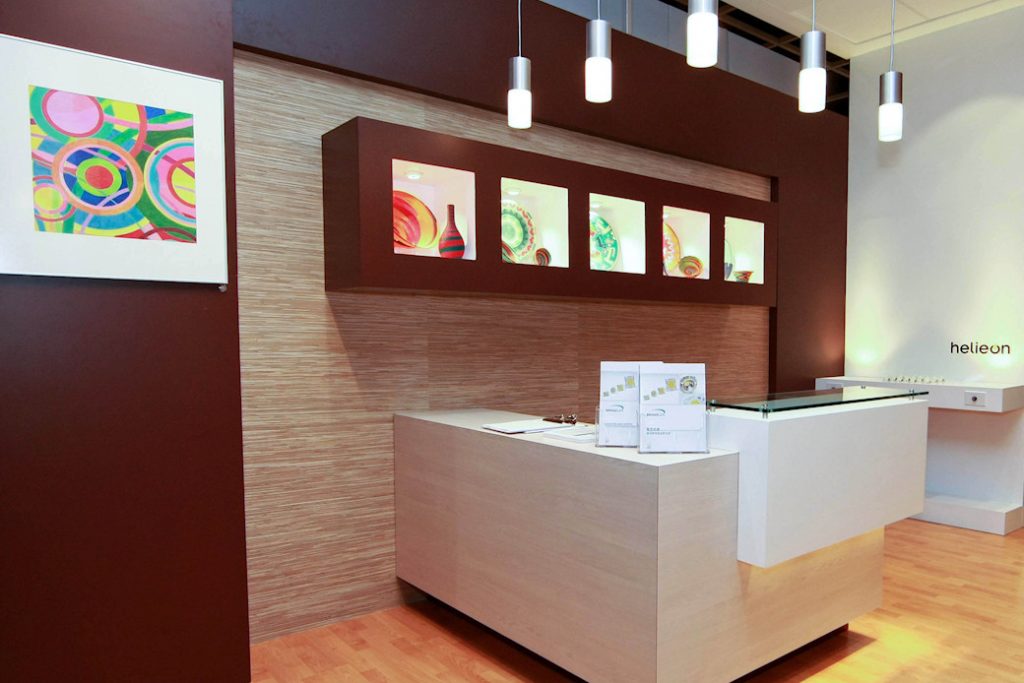 Office interiors in Japan's businesses have always been a source of pride. The country's business culture demands that office design in Japan reflect the success and status of the company in the overall economy.  At Idea International, we understand this, and for years, our work with office design in Japan has included enhancing our clients' images with corporate lobby and office design. In a country where tradition and saving face has always been important, office design reflects status—not only of the company's place in the overall economy but also the status of corporate leadership.
In our sixteen years, we have worked with some of the most influential Japanese companies, and we are proud of our work. Whether fitting out offices, merging tradition and innovation, or designing lobbies, which, as the first encounter a visitor has with the company, must communicate "success."
COVID-19 Influenced Japanese Office Culture
And then, COVID-19 disrupted the business climate, forcing workers to telecommute. For years, workers have been encouraged to telecommute, but they—and their employers–have resisted. However, in a hierarchical society like Japan, when the edict came from top authorities, suddenly, telecommuting became the new normal. In a survey conducted during the third week of April, the Japanese Business Federation or Keidanren reported 97.8% of its member companies had put work from home policies in place. This statistic shows a 29.2% increase from a survey six weeks earlier.
However, it's worth noting that simply because policies were in place, habits formed over many years are hard to break. Despite quarantine orders, many Japanese workers continued to go into their offices. And in industries like manufacturing, electronics, and other essential industries, workers were not able to work from home.
Founding partner and CEO of Tokyo-based venture capital firm Coral Capital, James Riney, was quoted in The Japan Times: "Something that seems to be a recurring theme in Japan is that things take a long time to happen, and then they happen all of a sudden. What the coronavirus has done is serve as a forcing function for a lot of things that were taking forever to change, things that were almost a joke in Western media, that Japan is very paperwork-orientated…. it's served to disrupt those existing processes. When things happen in Japan, they happen really, really quickly."
The pandemic showed not only that it was possible to have a sizeable percent of the workforce working remotely but that many people were more productive when they were out from under the micromanagement that had characterized the Japan office. Manufacturing jobs, etc. Cars, electronics.
As Andrew McKirdy wrote in The Japan Times, companies all around the country [Japan] are waking up to the idea that Japan's entire business culture may have to abandon years of tradition and embrace a new reality if it is to survive and flourish in a post-pandemic world. Western influences have tended to speed up these changes, and Japan's businesses are not experiencing a lack of productivity.
McKirdy quotes Masatoshi Shioda, Japan sales director for office furniture company Steelcase Asia Pacific: "Most traditional Japanese companies use an open-type office with people sitting in lines so that the manager can easily monitor what they're doing," Shioda says. "They're either sleeping, or they're working. That's how Japanese management works. Or, at least, it did until COVID-19 came along."
Company Hubs
As Japanese companies are rethinking the traditional business culture, they are rethinking office design. Many companies are not renewing office leases and are searching for more efficient spaces. A new trend for Japan's leading companies is to establish hubs so that workers can work close to home on those days when they need to—or want to–come into the office. What is essential as these hubs are created is to ensure a consistent look and feel, one that will instill pride in the workplace and serve as a reminder of the company culture. We can help companies build out these hubs. Our design work has demanded that we provide brand consistency across all installations—and we understand its importance.
In approaching office design, companies are wondering how to use space. They have learned now that not only are workers productive, but they are also happier when they have the option of working from home, option being the important word.

Camaraderie Continues to be Very Important
Still, many workers look forward to coming into the office frequently, although not daily. Studies have shown workers in Japan enjoy the conversations and camaraderie with co-workers, so companies need to keep a well-designed office space to encourage this. McKirdy says, "the explosive popularity of online drinking parties during the state of emergency suggests that socializing with colleagues and clients, a practice so embedded in the fabric of Japanese work life that it gave rise to the term "nomunication" is likely to survive in one form or another. Tacnom, a video chat website designed for online drinking parties and launched earlier this year, attracted 2.4 million users in its first two months."
Companies Embracing Change Call on Idea International
When office design changes, companies in Japan call on Idea International; we understand the traditional role that office design has played in Japan, and we also appreciate office design that meets the realities of a post-pandemic world. As offices consider either a new office space design or eliminating much of the space that for so long has designated success in the business culture, we can help provide solutions for this new reality. We have the capability, the experience, and above all, the vision and insight to meet these new needs.
What do we offer?
We assess how new office design can cut waste and save money.
We separate the essential from the non-essential.
We design and retrofit offices for maximum productivity.
We can manufacture the new fixtures that offices need to meet health and safety standards.
We can install these fixtures with our teams of skilled workers.
How do we do that?
We create modern office designs that allow for social distancing. For example, many companies are rethinking the idea of traditional conference rooms. We help them come up with new solutions.
We design for video conferencing. For instance, we create pods so that meetings can take place both virtually and in the office.
We repurpose the traditional office workspace configuration of workers sitting in lines so that dividers, acrylic, for example, can keep infection at bay.
We redistribute seating and other areas to protect the health and safety of workers.
We help companies rethink the use of space formerly allocated to large meeting rooms.
At Idea International, we are uniquely poised to meet the needs of the new office environment – and we look forward to being your partner as you implement new office design.