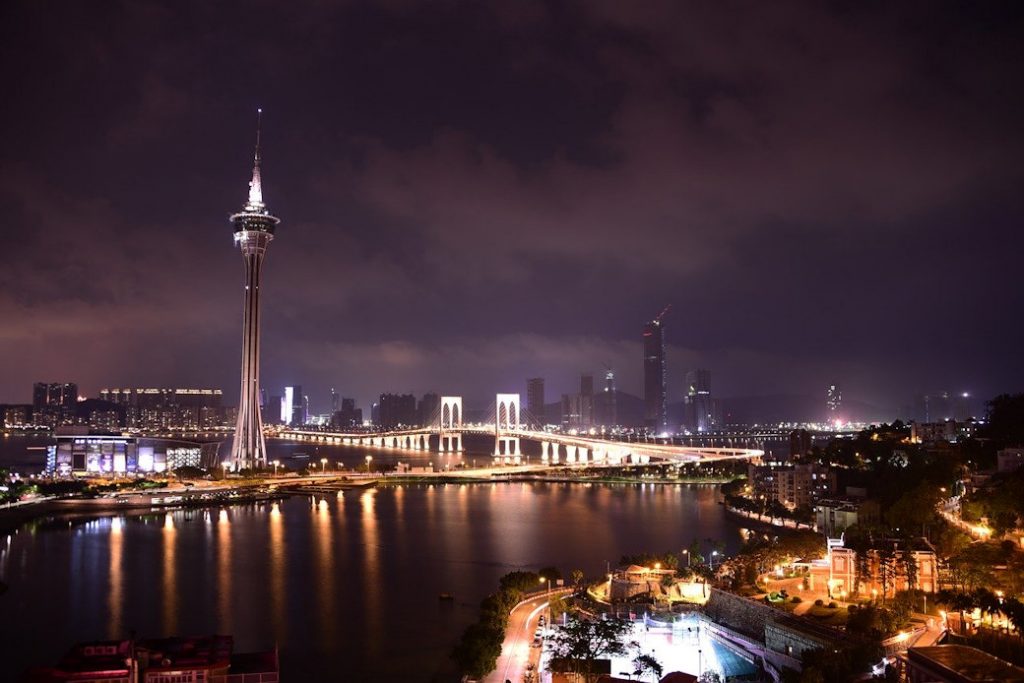 Macau, officially the Macau Special Administrative Region of the People's Republic of China, is an autonomous region on the south coast of China, across the Pearl River Delta from Hong Kong. A Portuguese territory until 1999, Macau features a mix of cultural influences. Nicknamed "the Las Vegas of Asia," Macau is home to giant casinos, malls, and hotels with the same name as those in Las Vegas—like the Venetian, the Hardrock, and the Rio. One of Macau's more striking landmarks is the tall Macau Tower, with sweeping city views.
Macau is accessible via air. Macau International Airport is located on Taipa Island, a ten-minute drive via the Macau-Taipa Bridge. About 20 airlines flying to and from Macau operate at the airport connecting from major cities in Mainland China, Taiwan, Korea, and other countries in South-East Asia. Macau is connected by sea from Hong Kong and Mainland China through a network of ferry terminals virtually operating 24 hours a day by several service providers. Ferries from Hong Kong's Macau Ferry Terminal in Sheung Wan operate every 15-30 minutes by day and every hour at night, and the ferry ride takes about 60 minutes.
Macau History
Macau has a fascinating history that explains its unique culture. The city of Macau was formerly a colony of the Portuguese Empire. Between 1557 and 1887, Macau was governed by the Portuguese under Chinese authority and sovereignty. In 1887, Portugal was given perpetual colonial rights for Macau, which remained under Portuguese rule until 1999, when it was transferred to China. As a special administrative region, Macau maintains separate governing and economic systems from that of mainland China.
A Unique City and a Growing Trade Show Destination.
Now Macao is a major resort city and a top destination for gambling tourism. Macau's tourism revenues are the ninth highest in the world, and its gambling industry is seven times larger than that of Las Vegas. Although the city has one of the highest per capita incomes in the world and its GDP per capita by purchasing power parity is one of the highest in the world, Macau has severe income inequality. It also has the fourth-highest life expectancy in the world.
In addition to gambling, visitors to Macau have options ranging from visiting the Ruins of St. Paul, built in the 16th century, to taking advantage of the highest commercial bungee jump in the world. Situated at the top of the striking Macau Tower, jumpers leap from a platform 233m (764 ft) above the ground and experience the ultimate free-fall experience. The Macau Tower offers less terrifying alternatives such as Skywalk and SkyJump activities.
The saying, "You haven't been to Macau until you've been to Senado Square," is true since it reflects the city's unique heritage, a blend of Asian and Portuguese influences. For additional cultural immersion, visit  Taipi Village, a short walk from the casino (Cotai) strip. You will find museums and colonial churches juxtaposed against Chinese temples. Taipa Village is home to the stunning Taipa House Museum. Built in 1921, it once served as a residence for the Portuguese governor and other high-level civil servants and their families. Taipa Village is one of the few areas in Macau where you can step back in time and enjoy quiet strolls along pedestrian alleys and hidden lanes, browse in cozy shops, and visit local bakeries selling the city's famous almond cookies and peanut candies.
Macau Venues: The Similarities with Las Vegas Are Not Simply About Gambling
Like Las Vegas, Macau has invested in exhibition venues with state-of-the-art technology. Not to be outdone by Las Vegas, the Venetian in Macau has 150,000 sq. meters of exhibition space and is a very popular exhibition venue with most major shows locating there. An exciting venue coming in 2021 is the Galaxy International Convention Center. Visitors will be able to reach the GICC by light-rail train. There is currently a hotel on the site, but the exhibition center will be the crown jewel of the project, able to accommodate 7,000 delegates.
While the exhibition industry is growing in Macau, due in large part to the gaming culture and the moderate weather, the UFI Global Exhibition Barometer reports that global economic developments are the most critical business issue in Macau. On the other hand, since all initiatives in Macau are relatively new, the venues are in the forefront to offer contemporary technology such as digital services.
Major Trade Shows in Macau
At this point, the Venetian is the first choice of large show organizers. The Venetian will play host to 20,000-50,000 attendees and more than 500 exhibitors at the Global Gaming Expo Asia (G2E Asia) a must-attend marketplace for the Asian gaming-entertainment industry, offering a one-stop platform to the industry professionals to network, forge fresh connections, source new products and solutions, and gain a more in-depth insight into the latest global industry trends.
The Venetian will also be the venue for the International Association of Amusement Parks and Attractions Expo Asia (IAAPA) is the one-stop destination for leisure and attractions industry professionals, including operators, suppliers, investors, and developers. It focuses on amusement and theme parks, integrated hotels and resorts, water parks, attractions, family entertainment centers, and similar companies. The show organizers expect 7,000 attendees who will visit 300+ exhibits.
The Macau International Environment Cooperation Forum & Exhibition, with approximately 20,000 will also have a home at the Venetian.
Working Exhibitions in Macau
Most of the stands at exhibitions in Macau are built in China and driven to Macau. Exhibiting in Macau can be tricky and time-consuming. It's critical to lock in labor early and not to be surprised by the cost of labor. Because of the labor laws, as we explain below, a project manager should be on site to instruct local labor. This obviously increases the cost, and the time it takes to set up a booth.
Read the manual! And fill in all the appropriate forms for services such as rigging.
The Labor Environment—and the Laws (If the following sounds confusing, consider working with a partner like Idea International. We understand this environment!)
Macau's has its own immigration laws which affect labor including labor for trade shows and exhibitions. The Government of the Macau Special Administrative Region allows citizens of specific countries/territories to travel to Macau for tourism or business purposes for periods ranging from 14 to 180 days without having to obtain a visa. All travelers between Macau and China and Hong Kong must pass border controls, regardless of nationality. Chinese citizens resident in mainland China do not have the right of abode in Macau and are subject to immigration controls.
The following labor contracts must be in writing:
Fixed-term labor contract (including renewal);
Variable term labor contract;
Labor contract concluded with a non-resident worker;
Labor contract concluded with a minor worker.
A written labor contract must contain:
identification of the employer and the employee
signatures of the employer and the employee,
working conditions,
the date when the contract is entered into,
the date when the contract comes into force,
other requirements stipulated by law. 
Each party shall have a copy of the written labor contract. Only after a non-resident employee has been granted the "Authorization to Stay for Non-resident Workers" issued by the Public Security Police Force can he/she legally work in Macau.  Moreover, he/she could only work according to the position stated in the "Non-resident Worker's Identification Card," or as it is popularly known, "the blue card."
Furthermore:
"Illegal worker" or "a non-resident employee working for a non-authorized entity" is deemed an administrative offense and a fine of MOP$5,000.00 (approximately $625.00 US) to MOP$10,000.00 (approximately $1,250 US) shall be imposed.
There are government hotlines set up to report illegal work.
Finally, the Language in Macau; Be Prepared
The predominant language is Cantonese, spoken by 87.5 percent of the population, 80.1 percent as a first language, and 7.5 percent as a second language. Only 2.3 percent can speak Portuguese, the other official language; 0.7 percent are native speakers, and 1.6 percent use it as a second language. Increased immigration from mainland China in recent years has added to the number of Mandarin speakers, making up about half of the population (50.4 percent); 5.5 percent are native speakers, and 44.9 percent are second-language speakers. Traditional Chinese characters are used in writing, rather than the simplified characters used on the mainland. English is spoken by over a quarter of the population (27.5 percent); 2.8 percent are native speakers, and 24.7 percent speak English as a second language. Macanese Patois, a local creole generally known as Patuá, is now spoken only by a few in the older Macanese community.