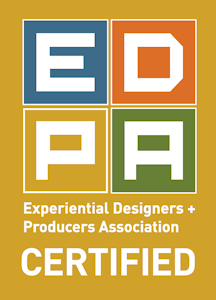 What does this certification mean? It means that Idea International's business practices meet stringent standards for exhibit industry excellence as determined by iCompli, a third-party auditing company and a division of BPA Worldwide.
"Having confidence in your on-site team when you are exhibiting in the APAC region is key," says Chris. "We want to give you the comfort, the peace of mind, if you will, to explore and get to know this exciting part of the world and the markets that are opening to you while we take care of the details. The EDPA Certification provides yet another reason to work with us when your schedule includes exhibiting in the APAC region. 'Peace of Mind, Half a World Away' isn't just a tagline. It's a promise."
Would you like to see a sample of our work?
Click on this video of one of the four large projects we completed at the recent World Congress on Lung Cancer (WCLC) last month in Yokohama and learn why our client wrote:
Your team was fabulous, and the exhibit was a true "show stopper." I can't thank your team enough for its unwavering commitment and the beautiful attention to detail that was displayed. The results show, and we couldn't be prouder. Please extend our gratitude to your cumulative team. As always, we look forward to partnering with your team on future events.
"Peace of Mind-Half a World Away"
Will your company be attending EDPA ACCESS in Carlsbad CA, November 29-December 1, 2017? We will be there—and will be happy to discuss your plans for exhibiting in the APAC region.