beMatrix® Custom Exhibit Rental Program Japan
Idea International's new beMatrix® custom exhibit rental program in Japan provides you an exhibit solution that is flexible, graphics-friendly, sustainable, and easy to use. With our new Japan-based beMatrix inventory, we can deliver a high-end modular, extruded aluminum exhibit system when your trade show schedule brings you to Japan. BeMatrix® has become the industry's leading exhibit rental solution, with exhibit and event companies adopting it worldwide as the backbone of their exhibit rental inventory.
Why beMatrix? Because it combines modularity with custom-built exhibit features and because the same frame is suitable for hard panels, SEG fabric graphics, slatwall, Plexiglas®, and custom infills.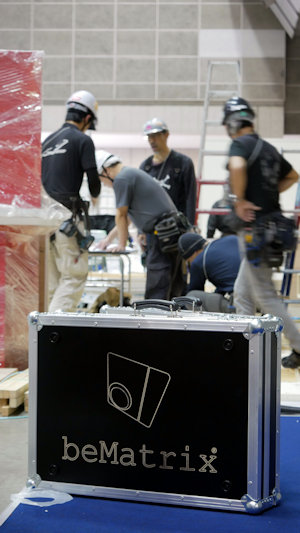 Building a market base in Japan takes time because Japanese customers build lasting relationships over a period of years, not months. Many exhibitors attending a Japanese trade show for the first time purchase a smaller space either to test the waters or because by the time they decide to exhibit, only smaller spaces are available. But a small exhibit doesn't need to be timid or boring. With our striking SEG graphics and cost-effective beMatrix solutions we will make your exhibit stand out on the show floor and attract visitors-so you can focus on developing relationships.
In Asia, it is common for exhibitors to build their exhibit as a one-time use solution, also known in the industry as a build and burn. Build and burn exhibits have a negative impact on the environment and add to the waste generated by our industry. BeMatrix frames can be re-used at multiple shows for a sustainable and economical solution. By working with Idea International, you can feel good knowing that your environmental impact of exhibiting in Japan is significantly lessened.
Most importantly, with the beMatrix system, Idea International can replicate your global design. A beMatrix solution is an excellent choice for global exhibitors coming to Japan who want a fresh image on the trade show floor while ensuring brand continuity and identity.
Idea International can use your existing design or develop a custom exhibit rental option that meets your exhibiting needs and gets you the visibility you deserve. Idea International will provide a solution that helps you meet universal trade show goals and objectives: to stand out on the trade show floor, to promote your brand, and to attract visitors.
For additional information about our custom exhibit rental program, contact Idea International today.