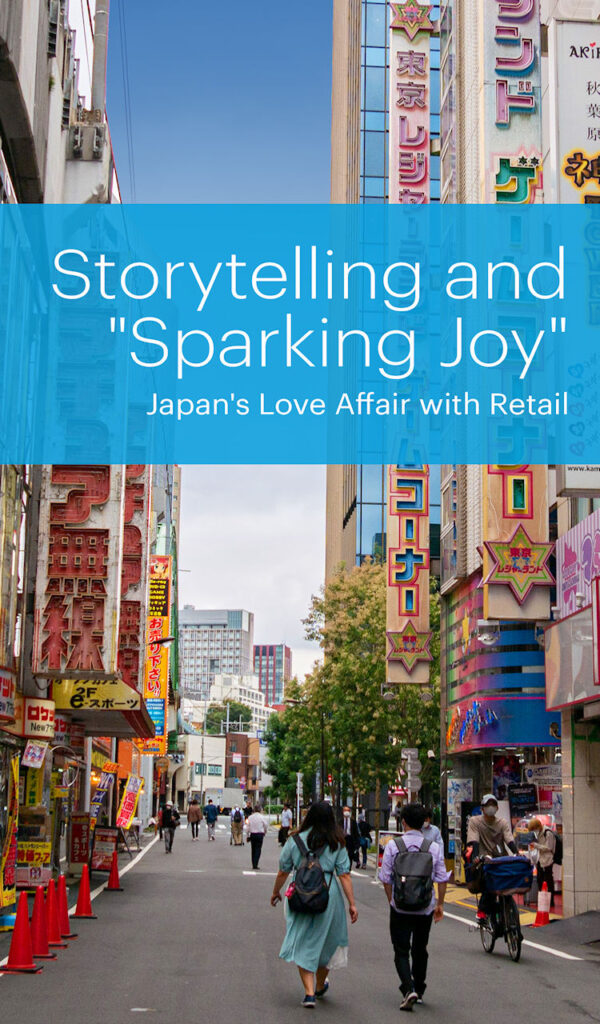 Japan has a love affair with retail. The country is the second-largest global retail market and accounts for 55% of all the retail in Asia, Home to many high net-worth people with high disposable incomes, a hefty percentage of Japan's population is attracted to high-end global luxury items and brands. So, while malls and other retail outlets worldwide suffered during Covid, Japan's mask-wearing population indulged their passion.

Tokyo-born Marie Kondo, star of the Netflix series "Sparking Joy," spreads the Japanese philosophy that you buy a few items very selectively. This is no less true for the shopper with the means to indulge in high-end purchases.

Japan is a small country, storage is limited, and Japanese people hate clutter. So, every retail purchase, again channeling Marie Kondo, needs to meet the number one market expectation: retail should spark joy (tokimeku) or the inclusive feeling of love and happiness when we purchase new things. Japanese shoppers seek experiences, not consumption.

One way Japanese retailers spark joy is through storytelling. Unlike Western storytelling, in Japan, stories traditionally are mostly devoid of conflict. Instead, they are emotional and often humorous. Japan's history is steeped in storytelling, with specific traditions that are influential to this day. If you need examples, anime or Japanese cartoons give you contemporary insights into the way stories unfold.
Rakugo, a dialog voiced by a single person, was invented by Buddhist monks in the ninth and tenth centuries to make their sermons more interesting. Rakugo employs comic monologue and is a minimalistic form of storytelling, featuring a solo storyteller dressed in a kimono. The monologue becomes a dialog or conversation with two or more characters, told by a single performer. The storyteller kneels or sits (never stands!)on a raised platform, a kōza, and using only a paper fan and/or a small cloth as props, tells a long and complicated comical story.
Kamishibai, or "paper drama," started as street theater. First, the Kamishibai men would sell candy to children and have them sit to watch the show. The text is written on the reverse of illustrated cards so the storyteller can read the text while showing the audience the pictures. Kamishibai men would secure their butai – a wooden structure, half picture frame, half theater stage – to the backs of their bicycles and use wooden clappers (hyoshigi) to gather their audience. Finally, the wise storyteller would stop at a cliffhanger so the kids would come back to find out what happened—and buy more candy.
One more piece of storytelling tradition is Kishotenketsu, the biggest difference between storytelling in the East and the West. In Japan, there is minimal conflict. Instead, there are four distinct sections to the story structure: an introduction, some development, and then the important part: a twist! And after that comes the resolution. This structure is totally different from the twelve stages of the conflict-driven hero's arc in Western storytelling.
Because of the complex storytelling traditions, Japanese retail designers often struggle with storytelling, perhaps because the top brands in Japan are global. But campaigns and installations that use traditional storytelling techniques increase engagement and interest from the audience. The success of the retail installation depends on a continuing, consistent, conflict-free narrative. Everything in the installation must speak to the shoppers. In Japan, customers want to know about the products they buy, so the stores must present the information creatively using storytelling.

Since my background is in the trade show universe, I learned interesting display techniques while focusing on retail. So, what stood out for me? Primarily, retail and trade shows cross-pollinate, and there is much we can learn about trade show marketing from retail—and vice versa.
Create a picture that allows customers to imagine themselves in the story. Make the context recognizable with strong images and narrative. 
Borrow from anime. Put the customer in the picture both visually and verbally. Anime is based on traditional Japanese storytelling with some modern exceptions. Visual presentation is critical—and so is interactivity and movement.
Localizing the retail experience is powerful. Each of Japan's cities and regions have a unique character. The challenge is to make global brands feel like an experience that reflects a particular geographical area.
Be whimsical in the outfitting and the decor. Remember, storytelling in Japan is mostly conflict-free and generally humorous and fun. Think Hello Kitty.
Remember the twist in Kishotenketsu? Build to a resolution—or a decision to buy. There are multiple ways to do this. First, create an atmosphere that fosters a positive, joyful buying decision. Japanese customers don't like a hard sell, and retail must understand the discomfort with an environment built to 'close the sale.' (Relationships are important and building a relationship with a brand also exists in Japan.)  
Not dissimilar to the importance of trained staff at trade shows, the best retail stores in Japan provide very attentive staff to accompany the upscale experience. (And like best trade show practices the world over, no counters get between the staff and the customers.)
Create an environment that encourages dialog, feedback, and participation. Remember, the Japanese like details presented entertainingly.
Put the focus on the central character, the customer. Deliver the magic. Use tools and narratives in the retail scene that will help them find joy. 
When the customer exits the retail environment, make every part of their actual journey to the door memorable and joyful.
In talking to you during the past few months, we've shared what we learned during quarantine. Many of you earned new certifications to make trade shows safer. Some of you found new applications for your existing products—modular rooms or safety shield designs for schools and restaurants. And, of course, a number of you developed digital skills beyond your wildest expectations. I learned to spark joy.