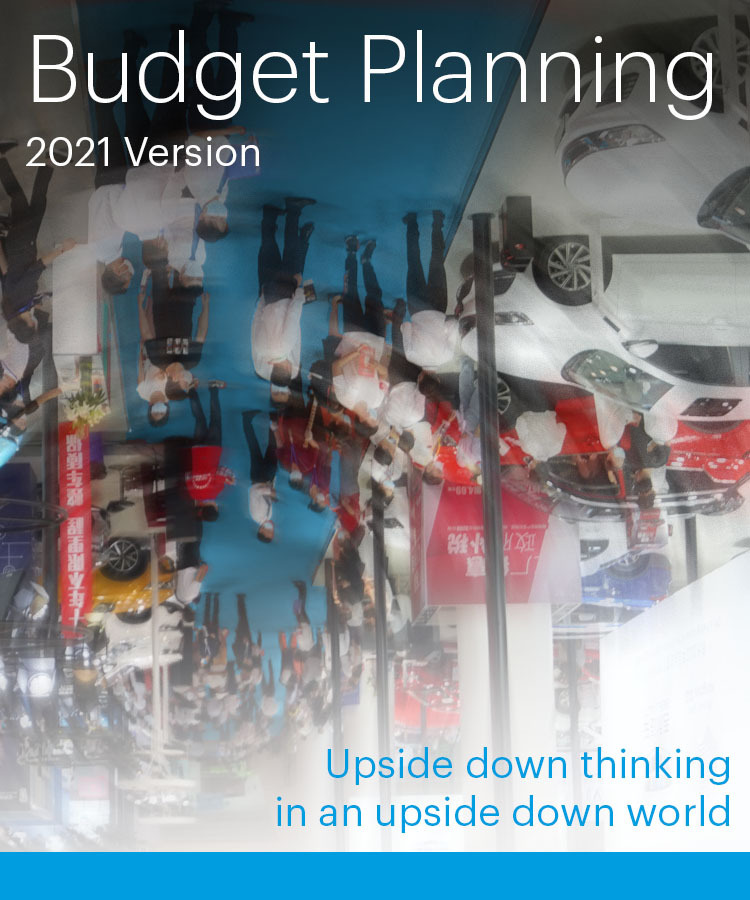 What kind of budget preparation can you do when "the world's turned upside down?" When your potential show schedule includes trade fairs and events in the APAC region, we can give you some guidance.

One thing to keep in mind: trade fairs in the APAC region aren't coming back—they ARE back. Can you afford to miss an opportunity to grow your revenue derived from experiential marketing in our part of the world? We're guessing you can't.

Depending on where you are—the Americas or Europe, most likely—the robust trade show schedule that you have come to take for granted over the years has been seriously disrupted. And while it is difficult or next to impossible to prepare for a year when live trade shows might either be replaced by virtual offerings or by hybrid events combining virtual with live, there is one thing that's for sure: you can count on the shows in the Asia Pacific region to move forward and to be well-attended.

Of course, part of the problem for you if you are not in the APAC region is the very real fact of travel restrictions. Those can be imposed by various governments or by your employer. So, while our shows go on, how can you take advantage of exposure to our very vibrant marketplace?

The Right Partner for APAC Region Shows
Your first step is to enlist a partner who not only knows the region but knows the countries, cities, and specific venues in the region. Choose a company with relationships, a network, and a good understanding of the local work laws and culture. A company that knows the best way to promote your brand in the region. A company that has relationships with show organizers and best-in-class labor and third-party suppliers.

Once you have selected that partner—and we certainly hope that's Idea International—we can help you create a budget for your APAC region shows, even if you can't attend in person.

Budget Considerations
Let's begin with the fact that your most considerable expense is show space; if you have paid for the space in last year's budget, note the expense in this year's budget. In all likelihood, you had plans in place in 2019 for 2021, since APAC region shows require advanced planning and negotiations.

The good news? Your travel costs will plummet. When you consider staff for your exhibit, one option is to call on your local offices in the APAC region. If you haven't established yourself to the extent that you have a local office, Idea International can help you with staffing options from our network of professional stand ambassadors.

This is the year to take advantage of offerings like sponsorships and promotional activities. A portion of the money you save on travel can be used to heighten your brand on and off the show floor. Even if you said no to these options initially, Idea International can help you negotiate with the organizer to determine a way to promote your brand that provides a good return on investment.

When you begin to work with your exhibit partner to design and build your exhibit as well as to help you with freight forwarding, GST, and other unique challenges, request that your quote include:
Exhibit build and design, including graphics: if you have a U.S. design that you would like to use, share that design with your partner to learn whether it is feasible and/or culturally acceptable. The same is true with graphics files.
Labor and other show services: Trust your partner. Some countries have unions, some don't. Some have set work hours, others stay until the work is finished. Some shows are adopting the U.S. drayage model, fortunately, many are not.
If you absolutely need to ship something to show site, work with your partner to expedite the shipment. Learn whether all or part of the GST is recoverable. And ask your partner about other charges such as recycling so that you are not hit with unexpected tariffs.
Now here's the part that is different this year: For whatever reason, you can't be on-site for the show. All the more important to have a partner you can trust, one that will work virtually with you 24/7, a partner with the investment in technology to allow you to see the progress of your exhibit every step of the way. And that's Idea international. Perhaps you have a plan that includes a virtual keynote address from your CEO or a celebrity spokesperson in the exhibit; we have the technology to build virtual experiences.

Trust your program to us—the whole program! Exhibitors have been putting their trade fair programs in our hands since 2004, and we haven't let anyone down. Contact us today to work out the details for a flawless exhibiting experience, even if you're not there to oversee it.

And one last word: while you have those travel dollars remaining, consider putting them toward a mobile event marketing program to take your products and services directly to your markets. Learn more about mobile event marketing here.