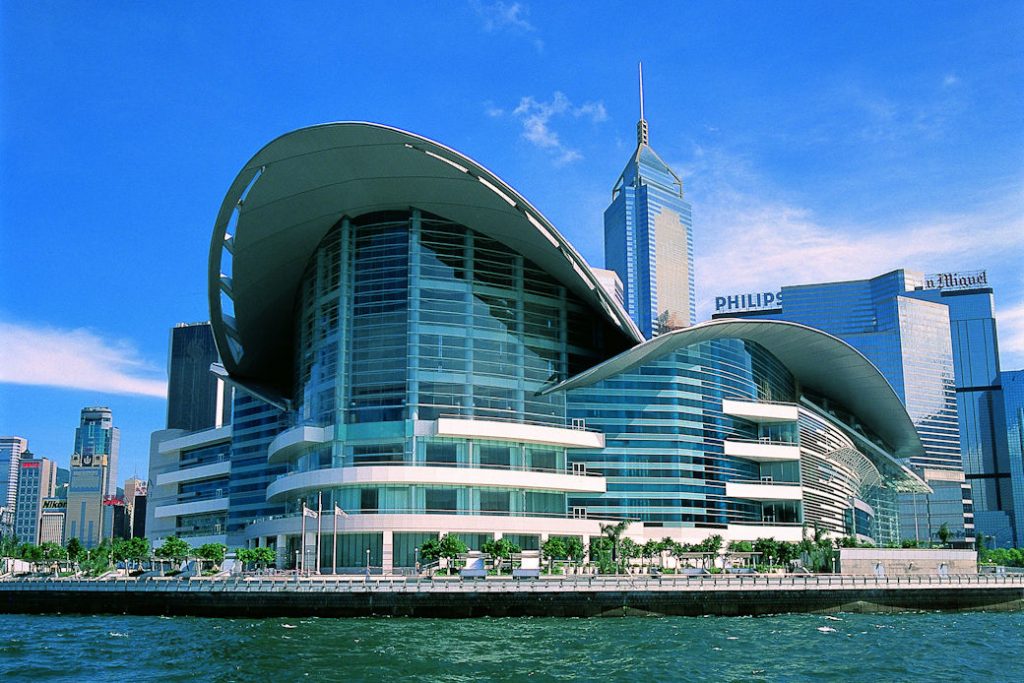 Hong Kong, an unforgettable city on the eastern edge of the Pearl River in southern China, has a population of more than 7.4 million people claiming many nationalities. One of the most densely populated cities in the world, Hong Kong maintains separate governing and economic systems from that of mainland China.
Hong Kong hosts the largest concentration of ultra-high-net-worth individuals of any city in the world and is one of the world's most important financial centers. No surprise, then, that Hong Kong attracts many exhibitions and trade shows. Because of the high density of the population, Hong Kong has an advanced public transportation system that is an advantage to residents and visitors.
When working in Hong Kong, trade show professionals can use credit cards with no compelling need for a lot of cash. Most restaurants and bars include a 10% service charge, so visitors don't need to worry about tipping. For visitors, there is no VAT in Hong Kong, making the city even more attractive to business travelers.
Many exhibit properties used at Hong Kong trade shows are built in mainland China. Before large shows, the border is congested with trucks bringing properties into Hong Kong, making planning in advance almost mandatory.
Despite this caveat, exhibiting in Hong Kong is exciting, and the return on investment can be substantial.
Here are a few things to remember:
US cell phones with international service will work in Hong Kong.
Although some venues have designated smoking areas, smoking is not allowed within show halls.
If you are using music, you must pay for music rights. The Composers and Authors Society of Hong Kong (www.cash.org.hk) has more information.
Most trade show attendees and many citizens of Hong Kong speak English, so feel free to greet people in English. There may, however, be attendees who speak only Mandarin or Cantonese, so a best practice is to have translators for both these languages.
Business cards are essential and should be printed in English and Mandarin. The same is true for any signage.
Hospitality is expected, no matter the size of your exhibit. Typical beverage offerings are juice, soda, coffee, tea, and beer, along with foods such as cookies or sandwiches. In Hong Kong, water is served at room temperature.
You must order all food and drink through the catering services at the venue.
Hong Kong's multiculturalism means that many of the taboos in other Asian cities are non-existent.
Trade show attendees often take the one-hour ferry ride to Macau for a night of gambling.
The peak travel season in Hong Kong is from September to November, so book early if your show falls during those months.
Before you hire a taxi in Hong Kong, have directions to your destination written in Mandarin.
When sharing a meal in Hong Kong, wait to be greeted before you begin eating. Also, try not to eat too fast, or else your hosts will worry that they didn't order enough food.
Hong Kong trade shows have shorter installation times than shows in the US, but the Hong Kong labor crews work quickly and bring in additional people to make sure the job is completed on time. The labor in Hong Kong will often work longer hours and will work later in the day.
Much work gets done after 'high tea,' which is between 4:00 pm and 6:00 pm.
Be clear about your expectations. Let the worker know the day and time the exhibit/stand needs to be 'show ready' or when the 'hand over' to the client needs to happen.
There are no unions in Hong Kong exhibition centers.
Workers are paid for an eight-hour day, including breaks. Work beyond eight hours is considered overtime.
Book your labor well in advance. The best approach is to have your exhibit partner book labor, although you can order labor from the organizer. Your exhibit partner, however, will identify the best people.
Hong Kong uses 220V. US equipment that runs on 110V needs a step-down transformer. You need to specify the power rating when you order the transformer from the electrical contractor.
The official contractor handles all electrical power. You can order a power main from the official contractor and have your exhibit house provide an electrical supplier to provide the wiring for your exhibit.
You need to have certified electricians handling your electrical work no matter who supplies them.
Your exhibit partner will take care of basic cleaning during the show, although you can order this service from the venue.
You may be charged a build-and-burn disposal fee, depending on how much and what type of materials are being discarded. The exhibitor manual will give you explicit instructions.
You must take care of the trash generated during installation and dismantle. You may be charged a damage deposit before the show, and if you do not adequately dispose of waste, any costs related to trash disposal will be deducted from that deposit.
Freight forwarders will deliver your properties to your booth inside the venue with no separate material handling charges.
Although drayage is not common, check with the show manual. Some larger shows charge for vehicle passes.
Hong Kong has fantastic exhibition venues:
Hong Kong is the preferred site for some very large trade shows such as:
Hong Kong venues are very attractive to exhibitors and attendees alike.
Hong Kong Convention and Exhibition Centre (HKCEC) (www.hkcec.com)
This facility contains five exhibition halls with capacity totaling 53,292 sq. m. There are two convention halls with seating for 6,100, with capacity totaling 5,699 sq. m. There are two theaters with seating for 1,000 and 52 meeting rooms for a total of 6,004. sq. m. There are 8,000 sq. m. of pre-function areas, seven restaurants, a business center, and parking space for 1,300 cars and 50 vans. On any given day, the HKCEC has the capacity for 140,000 visitors.
AsiaWorld-Expo (www.asiaworld-expo.com)
With an exhibit hall floor of 70, 000 sq. m. 1,143 sq. m. of breakout or meeting space, and a 32,340 sq. m. ballroom, AsiaWorld-Expo also supports a banquet or ballroom of 4,000 sq. m. and theater seating for 14,000 in the Arena and 5,00 in the Summit, Hall 2. There is parking for 1,000 cars.
Kowloon Bay International Trade & Exhibition Centre (www.kitec.com.hk.eng/index.php)
Kowloon Bay International is a multifunctional venue with a theater, 17 meeting rooms, office spaces, and a 900,000 sq. ft. shopping mall. The main hall, Star Hall, accommodates 3,600 people in 2,800 sq. m. of column-free space.
Hong Kong Science and Technology Parks Corporation (www.hkstp.org)
One of the city's newest venues, the Hong Kong Science and Technology Parks is in the middle of Hong Kong, benefiting from downtown transportation as well as connecting to Mainland China. In addition to technology development, this venue includes everything from conference centers and the exhibition hall to meeting rooms and outdoor spaces, allowing a wide range of event possibilities in this state-of-the-art facility
What should you expect for exhibit materials when you're exhibiting in Hong Kong?
In Hong Kong, you will find that your exhibit partner and the organizer use needle-punch carpet.
Raised flooring is common; usually, that means plywood covered by needle-punch carpet.
Raised floors are usually 100mm high (about 4 inches). Disability ramps are not required, but should be part of your plan.
Acrylic sheets, similar to Plexiglas® or Perspex, are available.
The premium finish is a 2-pac lacquer and is the most common. The second most common is laminate.
Roll vinyl finish applications are becoming increasingly popular.
Roll paint finishes are the least popular option, primarily because the process is very time-consuming.
And a few answers to questions you didn't know you had:
Organizers can be local or international. More and more, international organizers are initiating events in Hong Kong as corporations look to expand their global markets.
Organizers handle buyers and speakers' invitations, public relations and media promotion, gala dinners, seminars, and breakout sessions.
Contractors handle stand building and dismantling, designing and building the decoration of the venue, as well as handling exhibitors' technical questions, and collaborating with the venue management.
Some venues or exhibitions allow rigging. Read about rigging in the exhibitor manual.
Move-in is rarely more than three days before show opening. Dismantling takes place immediately after the close of the show.
Some organizers, particularly international companies, require the submissions of risk assessments and method statements. All stand builders must wear safety vests during move in and move out.
All stand builders must show their green cards before starting stand construction. All custom exhibits 4m in height and over must submit a Registered Structural Engineers (RSE) report to the venue.
Forget something? Tequila Kola or Sogo are the Home Depots of Hong Kong
For electronics, try Fortress or Broadway.
Citysuper, Wellcome, or Park n Shop are places where you can buy almost anything.
Cantonese style food is the norm in Hong Kong despite the variety of cultures living in the city. There are five daily meals: breakfast, lunch, afternoon tea, dinner, and siu yeh. Dim sum, as part of yum cha (brunch), is a dining-out tradition with family and friends. The one thing that you can count on is that the food in Hong Kong is fresh.
If you want to compress a major culinary experience into a few hours, take one of the many Hong Kong food tours.
Because of its British roots, Hong Kong continues the tradition of afternoon high tea. And don't forget shopping. With its tax-free status, mega-malls, hip independent designers, enormous factory outlets, and street markets, Hong Kong is among the world's most exciting places to shop. Buy that bespoke suit, that new laptop, and that designer dress!
And finally, spend one evening exploring Hong Kong's nightlife and clubbing. You can't come to Hong Kong without experiencing the pulsating energy in entertainment hotspots like Lan Kwai Fong, SoHo, and Wan Chai. Hong Kong offers a diverse mix of clubs, from the exclusive to the inexpensive and friendly.