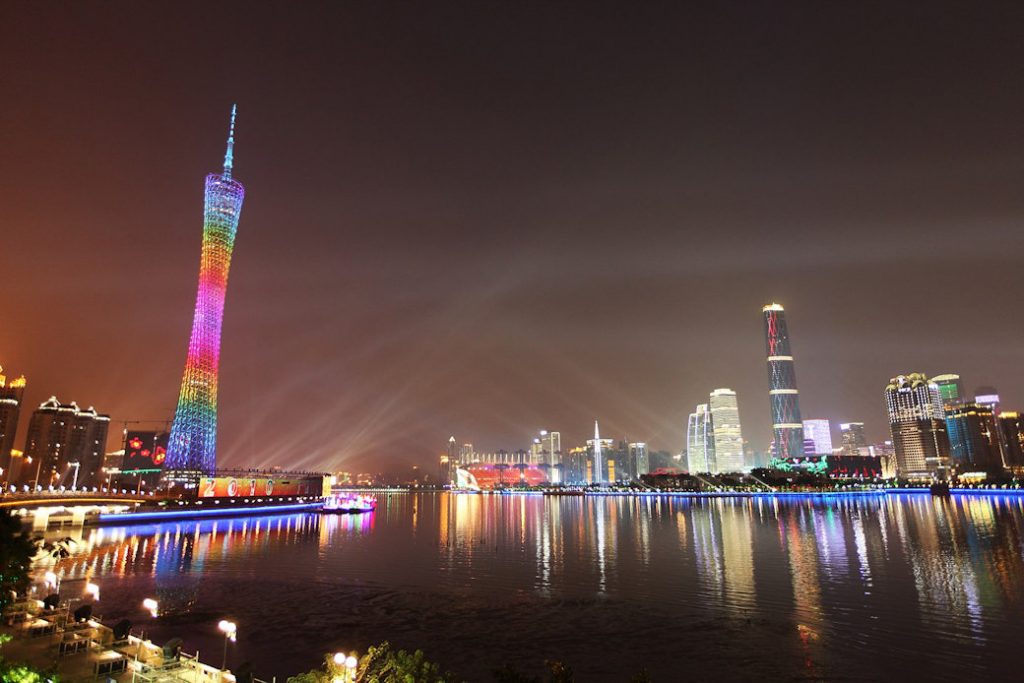 Exhibiting in Guangzhou can take the exhibitor to one of the largest exhibition halls in the world. Guangzhou, also known as Canton, with a population of approximately 25 million people, is the capital city of the province of Guangdong. On the Pearl River in southern China, almost equidistant from Hong Kong and Macau, Guangzhou's history reaches back for more than 2,000 years. The city was a major stop on the maritime Silk Road. (Established when the Han Dynasty in China officially opened trade with the West in 130 B.C., the Silk Road routes remained in use until 1453 A.D. when the Ottoman Empire boycotted trade with China and closed them. This network of trade routes connected the East and West and was central to the economic, cultural, political, and religious interactions between these regions.) 
Today Guangzhou is still an important port and transportation hub, as well as one of China's three largest cities. Guangzhou is at the heart of the highly populated metropolitan area known as the Pearl River Delta Economic Zone. The area includes the cities of Foshan, Dongguan, Zhongshan, and Shenzhen.
Guangzhou is the central manufacturing hub of the Pearl River Delta, one of China's leading commercial and manufacturing regions. In 2017, the GDP reached ¥2,150 billion (US$318 billion). Guangzhou is considered one of the most prosperous cities in China. Although industrialization brought pollution, green initiatives introduced to the city in recent years make Guangzhou one of the most livable cities in China.
Approximately half the population speaks Cantonese, while the other half speaks Mandarin. The city is home to some amazing architecture such as Zaha Hadid's Guangzhou Opera House, the Guangdong Museum, and the iconic Canton TV Tower.
Exhibitions in Guangzhou
Guangzhou's exhibition activity centers around consumer and industrial goods in B-to-B markets. The exhibition halls are enormous and world-famous.
Guangzhou International Convention and Exhibition Center (GICEC),
Guangzhou International Convention and Exhibition Center (GICEC), or Canton Fair Complex, is home to China's most important trade fair, the Canton Fair, as well as other major international and domestic exhibitions. The GICEC, located on Pazhou Island, Guangzhou, is one of the largest convention centers in Asia and one of the largest in the world, covering a total area of 1,100,000 M2 with an indoor exhibition area of 338,000 M2 and an outdoor exhibition area of 43,600 M2.
Area A has an indoor exhibition area of 130,000 M2 and an outdoor exhibition area of 30,000 M2
Area B has an indoor exhibition area of 128,000 M2 and an outdoor exhibition area of 13,600 M2
Area C has an indoor exhibition area of 80,000 M2.
The building uses three names: China Import and Export Fair Complex (CIEFC), shortened to Canton Fair Complex; Guangzhou International Convention & Exhibition Center (GICEC); and Pazhou International Exhibition Center.
About the Canton Fair
The Canton Fair, formally the "China Import and Export Fair," is held every year in April and October under the auspices of the Ministry of Trade. Since the spring of 1957, the fair has been a major event for the city. It has the longest history and the largest scale of any exhibition in China. The fair, held in the GICEC, attracts approximately 25,000 exhibitors at each of two sessions per year and 60,000 booths. About 190,000 buyers attend each session. The Canton Fair features every type of industrial product, from electronics to automobiles, consumer goods and gifts, and clothing, medicines, and recreational products in Phase 3. The event is held twice annually in the Spring and Autumn. Though most of the buyers are from other Asian countries, buyers from Europe and the U.S. make up over 10% of the attendees. The Canton Fair is an international event and offers assistance in multiple languages for attendees from more than 200 countries.
Tips for visiting the GICEC and Canton Fair Complex
Preregister, so you don't have to wait in long lines
Keep your passport with you. Passports are checked on entry for valid and correct visas (business visas).
There is a luggage desk at Gate 7 if you want to drop off your bags.
Digital touchscreens help locate exhibitors using the names of the exhibiting companies and their booth numbers.
There is free WIFI during the Canton Fair.
The fair is massive and can be exhausting. Pace yourself and stay hydrated.
Don't forget to take lots of business cards or have a scannable Q.R. code containing your details
Almost everybody uses the WeChat App; it's an excellent app for collating contacts
Take a roller bag or backpack for carrying the ton brochures/samples that you'll be collecting
Nan Fung International Convention & Exhibition Center and Langham Place Guangzhou (NICEC)
Nan Fung International Convention & Exhibition Center and Langham Place Guangzhou is the first commercial flagship in Guangzhou that integrates exhibition facilities with a five-star hotel.
Located in the core area of the Pazhou Convention and Exhibition and trade zone, NICEC sits right next to Guangzhou International Convention and Exhibition Center. With modern and professional services, NICEC provides a unique venue for business exhibitions when exhibiting in Guangzhou.
Guangzhou – Poly World Trade Center (PWTC)
PWTC Expo integrates functions of exhibition, conference, year-round brand opportunities, business office, catering, and hotel space. This functionality makes the PWTC a large-scale, high-standard and well-equipped convention, business, and leisure complex for exhibiting in Guangzhou and the Guangzhou region.
PWTC has become an important addition to the exhibition industry since it opened in October 2008. With a total area of 92,300 square meters, the PWTC offers six exhibition halls and one subway showroom as well as an easily accessible location, flexible space configuration, catering, and hotel options to become one of the most popular exhibition centers in southern China.
What Do You Need to Know When Exhibiting in Guangzhou?
All measurements are in meters, not feet.
If you don't include travel, it costs less to exhibit here than in the U.S.
Not all stand builders are created equal: buyer beware!
Unions are not part of the labor culture.
You can set up your exhibit by yourself.
Apply for electrical power in advance; do not expect to order it onsite. Running the main power in the hall to your booth must be performed by the general contractor. Your contractor may complete secondary or in-booth wiring. Make sure to have a qualified electrician with the right tools to prevent fires.
Some shows require the distribution box for your booth power to be visible. Think about this when planning the design.
Electricity consumption costs (rated per K.W.) are based on overall use. Check the manual where the prices are listed.
Most exhibits are for one-time use; however, local authorities and regional governments now require a percentage of the booths to be recyclable and made from sustainable materials.
Ask to see samples of materials so you can approve the quality of materials used.
A roll painted finish is the most cost-effective; however, it can look unfinished, chalky, and is time-consuming with multiple coats required. Investigate into alternative finishes like wallpaper, vinyl, laminate, or 2-pack lacquer finishes.
Most shows allow three days of installation time. Exhibitors can usually expect their exhibits to be set up in the first two days; the third day is for product placement and clean-up.
It may not be offered officially, but always ask for "early move-in." Be willing to ask how much and pay. Money talks. Nothing better than being ahead of schedule.
Book your hotel at least six months—probably more like a year—in advance.
Most venues use 220-240 volts, but sometimes you can order 110-120. Check with the manual and the official contractor.
Trash removal should be part of your space rental; check your services documents.
You can play music, but you must have the approval of the show management. You may have to pay for a music license or pay to use the venue's license
If you are shipping giveaways, they may be subject to customs import tax as well as the VAT. Customs may even confiscate them. DO NOT try to use FedEx, DHL, UPS, or a standard postal service. Either hand carry the give-aways or arrange with your exhibit partner to source locally.
Respect business cards. Receive them with two hands and read them. Don't write on the card or put it in your pocket in front of the person who gave it to you.
Use bilingual business cards; people greet with a handshake and a nod—they do not bow.
Like many Asian cultures, have a friendly conversation before launching into a business discussion.
Print your business cards in both English and Chinese.
Interpreters are essential—use an interpreter who knows your industry and can help with the qualifying process.
Have all your graphics translated and printed in both English and Chinese
Get a good VPN. You won't have access to your usual social media sites while in China.
If you are using equipment brought from the U.S., remember electricity is 220V-240V; outlets are two-prong or three-blade types.
You will get a flat cost. Often called a turn-key cost, or bespoke cost for the entire project.
Much of the construction is pre-fabricated at the shop, delivered to the space, and assembled on site. Expect some adjustments and related construction on site.
Working times in Guangzhou are often from 9am – 5pm. If you need additional time, ask in advance. It is often given for a fee.
Most exhibits are 'build and burn'—storing properties in warehouses is unusual.
Hanging signs and overhead rigging is often not offered in Guangzhou.
You may be charged a recycling or disposal fee.
A typical back wall height is 2.5m for in-line booths. However, check the manual: some shows allow up to 4.5 m. Take advantage of it.
There are no rules for sightlines and set back as there are in the U.S.
Most shows have a height restriction of 6 m for a single-story exhibit, and up to 8m for a two-story booth. Double-deck exhibits are very common.
Use the designated freight forwarder for the show. They will be able to get you out of difficult shipping situations. Trust us on this one.
Needle-punch carpet is the norm. Thick pile carpets such as you find in the U.S. are available but can be pricey since they are often only used for permanent environments and need specialized carpet labor to install.
Lead capture technologies are becoming more popular at larger shows. However, they are not yet the norm and usually cannot be customized (questionnaires). A 3rd party service may be able to assist you—or bring a business card scanner.
Interpreters are important—use an interpreter who knows your industry and can help with the qualifying process.
Graphics and literature should be printed in English and Chinese (Cantonese and Mandarin)
When it comes to dress, err on the side of conservative.
Large exhibits usually have a receptionist.
When you are in a taxi, bring a map with directions. Most taxi drivers do not speak English.
Never decline a business meal!